All Stories
Ontario's next government needs to address colleges' $100-million shortfall
May 30, 2018 | Canadore College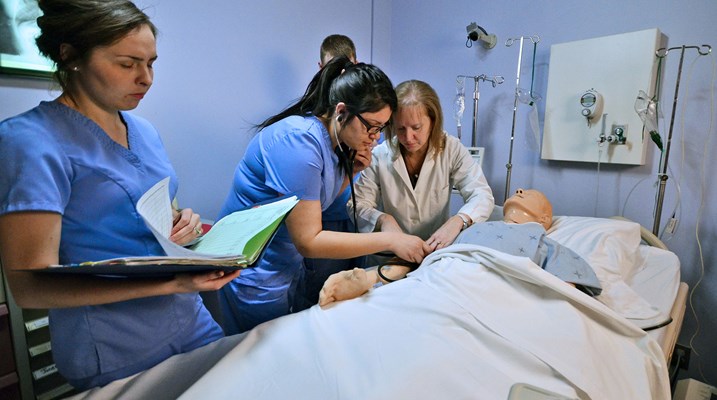 (NORTH BAY, ONT.) – Ontario's colleges call for the next government to address a $100-million province-wide funding shortfall faced by the system.
"A college education gives students a real edge in our technology-rich and competitive economy," said George Burton, president and CEO of Canadore College. "It's absolutely essential that we continue to deliver high-quality programs and apprenticeships that keep a wide world of opportunity for the leaders of tomorrow."
A number of factors are affecting the sustainability of Ontario's colleges, from challenging enrolment trends to cost increases related to the rate of inflation. Meanwhile, per-student provincial funding has continued to decline every year since 2007-08.
Ontario's colleges currently receive the lowest per-student funding in Canada. The per-student revenue for colleges is also significantly lower than the amounts provided to Ontario universities and high schools.
As of today, colleges need an additional $100 million per year to maintain programs and services for students that meet the needs of employers.
While some of the cost pressures were offset this year by an increase in international students, the long-term challenge remains.
Burton says that recent government investments in areas like student mental health are only a drop in the bucket; demand far outstrips available supply.
As accelerating automation and innovations revolutionize the workplace, Ontario needs to invest even more in college education. More students need to acquire the specialized qualifications and expertise that lead to rewarding careers.
Colleges are calling for candidates in the provincial election to commit to investing in student success. Some of the options for addressing the colleges' funding shortfall include:
Enhancing the annual operating funding provided to colleges.
Creating a tuition-fee framework for colleges that is distinct from the tuition framework for universities.
Developing a targeted funding increase to expand science, technology, engineering, arts and math (STEAM) programs by 30 per cent over the next four years.
"The chronic underfunding of college education is putting high-quality programs in jeopardy, which will in turn pose a threat to our provincial economy," said Burton. "Our next government needs to ensure that we have equitable funding in all areas of the province, including northern Ontario, so that we have the resources to provide students with the appropriate support and expertise that will lead to rewarding careers and changed lives."
Canadore College trains people through applied learning, leadership and innovation. It provides access to over 75 full-time quality programs and has outstanding faculty and success services to students from nearly 400 Canadian communities and 15 international countries. The College and its students add nearly $244 million to Nipissing Parry Sound Service Area economy. Approximately 1,000 students graduate from Canadore each year, and they join 44,000 alumni working across the globe. Canadore receives less than 50 per cent of its traditional funding from the provincial Ministry of Advanced Education and Skills Development and relies on its own innovation and entrepreneurial endeavours and generous donors for the balance.
For more information, please contact: Jessica Charette at 705.475.2538 or jessica.charette@canadorecollege.ca; Carrie Richmond at 705.474.7600, ext. 5216 or carrie.richmond@canadorecollege.ca
#Collaboration #College Drive #Commerce #Corporate Communications #General #New #Office of the President #Parry Sound #Profile #Programs
---
---