All Stories
Province Awards Canadore with $298K for Green Initiatives
Apr 13, 2018 | Canadore College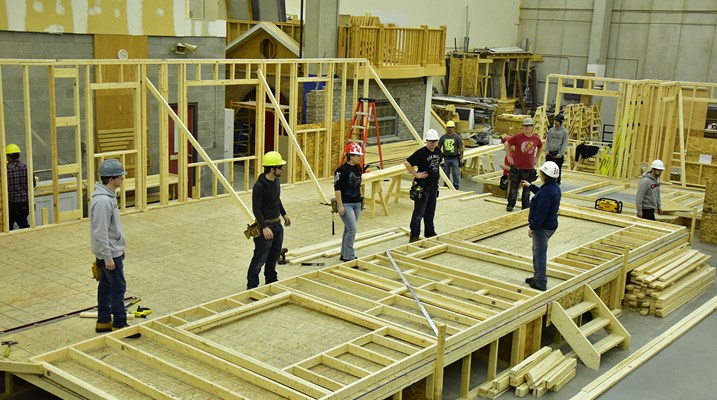 (NORTH BAY, ONT.) – The province of Ontario is investing $298,000 into two Canadore College projects as a part of its Climate Change Action Plan.
The college will be renewing a portion of its carpentry shop to develop an applied learning space to showcase low-carbon construction building practices, techniques and resources. Once the renovation is complete, teaching and learning aids, such as a low-carbon model house cross-cut will serve to demonstrate energy-efficient construction procedures.
To complement the enhanced facility, Canadore will be developing a new online course on energy-efficient building systems – one of the only ones in Ontario – geared towards the construction program, and elements of which will also be delivered to electrical, plumbing and civil engineering programs.
"Receiving this funding means that we are able to realize some of our program goals faster than expected," said Caroline Corbett, associate dean of trades and technology. "Of course there's the obvious tangible building upgrades and course improvements, but the infusion also means that we can incorporate more inter-professional training between our trades disciplines."
Corbett goes on to say that 150 full-time students will benefit from the upgrades, which will also be available to part-time students and corporate training clients.
The college received the province's investment through the Ministry of Advanced Education and Skills Development's Low Carbon Building Skills initiatives.
The energy-efficient building systems course will be taught beginning in the Fall 2018 and is being developed in a format suitable for online delivery in conjunction with the OntarioLearn platform. The carpentry lab retrofit will be complete and ready for student use by January 1, 2019.
Canadore College trains people through applied learning, leadership and innovation. It provides access to over 75 full-time quality programs and has outstanding faculty and success services to students from nearly 400 Canadian communities and 15 international countries. The College and its students add nearly $244 million to Nipissing Parry Sound Service Area economy. Approximately 1,000 students graduate from Canadore each year, and they join 44,000 alumni working across the globe. Canadore receives less than 50 per cent of its traditional funding from the provincial Ministry of Advanced Education and Skills Development and relies on its own innovation and entrepreneurial endeavours and generous donors for the balance.
For more information, please contact: Jessica Charette at 705.475.2538 or jessica.charette@canadorecollege.ca; Carrie Richmond at 705.474.7600, ext. 5216 or carrie.richmond@canadorecollege.ca
#Commerce #Continuing Education #Experiential Learning #General #New #Programs #Trades and Tech
---
---