All Stories
Seniors in the Forest program at Canadore College's West Parry Sound Campus receiving good reviews
Aug 19, 2021 | Cindy Males, Public Relations and Communications Specialist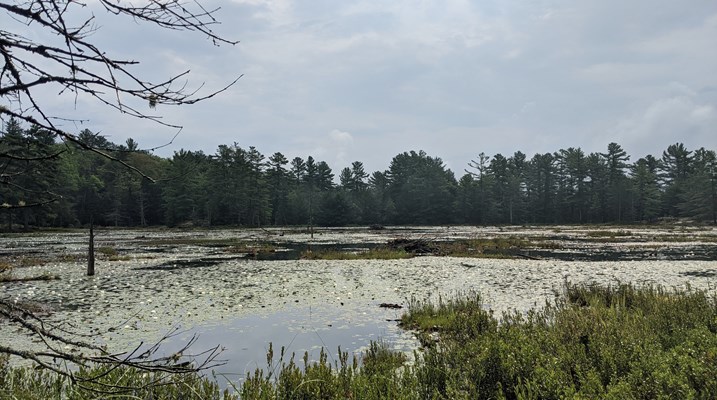 Canadore College's West Parry Sound Campus is offering special programming for seniors in the community, and participants are enjoying the experience.
"It puts people together," said participant Elaine McMahon. "Anything that gets you out of the house and involved with people is great for your sanity. It makes you feel connected to something."
"Funded in part by the Government of Canada's New Horizons for Seniors Program, the Seniors in the Forest program will help seniors stay active, informed and socially connected in their community. Seniors involved in the programming will participate in forest education experiences and facilitated activities to promote social inclusion."
"To foster continuous collaboration with the community and, having identified the specific needs of older adults, the College has welcomed our seniors to programming at the campus," said Lee-Ann Turner, Supervisor, West Parry Sound Campus. "This programming supports the enhancement of community based physical and socially or culturally relevant activities in a welcoming environment."
The West Parry Sound Campus is surrounded by beautiful nature. This program will allow older adults to re-connect with neighbours and friends and to enjoy the campus forest and facility.
A series of educational sessions, led by community agencies such as the West Parry Sound OPP and the Georgian Bay Biosphere, has been included in the program. Lisa Ross from the Parry Sound Friendship Centre will lead a series of discussions about the local Indigenous culture.
"It is all about making connections. The opportunity just to teach and for people to listen and understand is huge," said Ross.
"It's one more thing to learn about our local area, and I'm always willing to learn new things," said participant Marg Pearson.
"Our goal is to start with this one year of government funding and build an autonomous volunteer-led sustainable program for the community in partnership with Canadore College," said Turner. "Community agencies are being very supportive."
One of the participants will lead a book club with help from the program. Herbs and vegetables are growing for seniors in the on-campus community garden operated by Community Living and the Georgian Bay Biosphere. In August, a local yoga studio will begin offering a monthly class. A fitness program will begin in September.
"Canadore College is focusing here on the senior and retired members of our community," said participant Donna Anderson. "I applaud them for this and look forward to each weekly gathering and the new sense of "community" developed through these connections. Thank you Canadore College!"
For more information on Seniors in the Forest program, or to register please contact laura.foltz@canadorecollege.ca
---
---