All Stories
Six Nations Polytechnic and Canadore College form new strategic education and training alliance
Sep 12, 2017 | Canadore College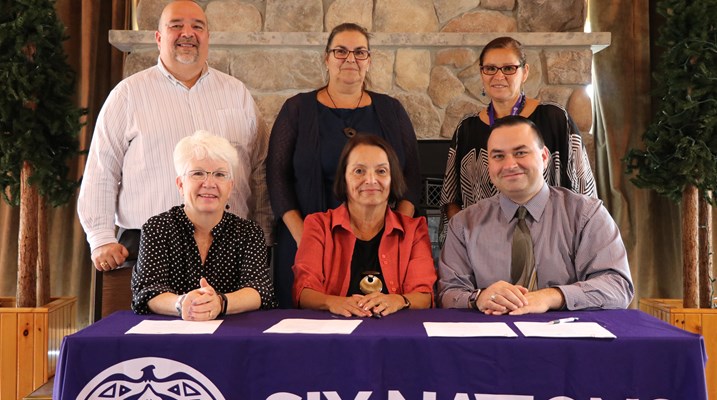 (BRANTFORD, ONT.) – Today, Canadore College and Six Nations Polytechnic (SNP) entered into a formalized education agreement.
Through the agreement, the two organizations commit to develop community capacity, deliver education and training programs, develop and teach programming, create accelerated transfer pathways and share Indigenous Knowledge in a way that is consistent with First Nations Principles of Ownership, Control, Access and Possession (OCAP) and community protocols.
"Six Nations Polytechnic looks forward to creating a strong partnership with Canadore College and working together for the success of our students," said Rebecca Jamieson, president and CEO of SNP. "We all share the responsibility of preserving, promoting and imparting the centuries-long knowledge developed and nurtured on our lands and in our culture."
Canadore and SNP will immediately begin planning for programs and program delivery. Key areas of focus will be on health and wellness, media, and trades and technology.
"We are absolutely thrilled to be working with the very progressive Six Nations Polytechnic," said George Burton, president and CEO at Canadore College. "Our organizations place the highest importance on the well-being of each and every one of our students, a principle that extends to families and communities."
The partnership between Canadore and Six Nations Polytechnic will provide students with enhanced educational choices and pathways. Students can look forward to programs starting soon at SNP's Brantford Campus.
About Six Nations Polytechnic
Six Nations Polytechnic is a unique postsecondary organization, recognized by community, government, and institutions of higher learning, as a Centre of Excellence for Indigenous Knowledge. Established in Canada's most populous First Nation there is no other place where you can invest your time to acquire skills that lead to employment as well as learn about the history, culture and philosophy of Indigenous peoples of the region. Choose Six Nations Polytechnic to study alongside others who believe in Ga'nigohi:yo:/Kanikoriio (Respect and the Good Mind) values and learn together to build a positive future.
About Canadore College
Canadore College trains people through applied learning, leadership and innovation. It provides access to over 75 full-time quality programs and has outstanding faculty and success services to students from nearly 400 Canadian communities and 15 international countries. Nearly 20 percent of Canadore's total student population is of Ojibway, Oji-Cree, Cree Algonquin, Mohawk, Inuit or Métis decent from Ontario, Québec and nation-wide, one of the highest representations in the provincial college system.
The College and its students add nearly $244 million to Nipissing Parry Sound Service Area economy. Approximately 1,000 students graduate from Canadore each year, and they join 44,000 alumni working across the globe. Canadore receives less than 50 per cent of its traditional funding from the provincial Ministry of Advanced Education and Skills Development and relies on its own innovation and entrepreneurial endeavours and generous donors for the balance.
For more information, please contact: Jessica Charette at 705.475.2538 or jessica.charette@canadorecollege.ca; Chelsey Johnson at 519.445.0023, ext. 262 or chelsey.johnson@snpolytechnic.com
#Aboriginal #Collaboration #Credit Transfer Pathways #Health, Human, Wellness #Indigenous Studies #Media #Programs #Sport and Rec
---
---