All Stories
Speakers' List Announced for the Ignite North Bay Event Highlighting Nipissing University and Canadore College Students
Feb 27, 2019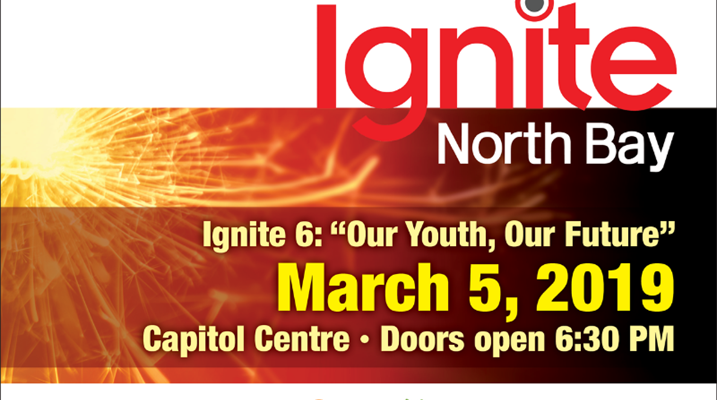 Nipissing University and Canadore College are proud to announce the speakers' list for "Our Youth, Our Future," a collaboration with Ignite North Bay.
Mistakes are not the end but a guide to what is possible by Bridget Anca, Canadore College environmental technology diploma
Beyond barriers, moving past stigmatism by Taylor Boissoneault, Nipissing University bachelor of arts in social welfare and social development
Getting involved can change everything by Jordan Drummond, Nipissing University bachelor of arts in history
The transformative power of paying it forward by Cory Hobbs, Canadore College social service worker diploma
Working the CORE to find a balanced life by Josee Lefebvre, Canadore College dental hygiene advanced diploma
Where you've been doesn't have to define what is or what can be by Madison Mancini, Canadore College recreation and leisure diploma
Take chances to find your possible by Sharmarke Mohamed, Canadore College occupational therapy/physiotherapy assistant diploma
Message and management toward effective fundraising by Eric Marrast, Nipissing University bachelor of business administration in marketing
Overcoming: the power of your passion by Conor Nesbitt, Canadore College digital cinematography advanced diploma
Embrace your culture, find your balance by Thalia Sarazin, Nipissing University bachelor of fine arts
Finding the flow, living with mental illness by Abbey Thompson, Nipissing University bachelor of business administration in marketing
The March 5 event will be held at the Capitol Centre and will feature student speakers who will share innovations, motivations, and inspirations.
Community members are invited to attend, with tickets available to be purchased online at Tangr.com or Eventbrite, or at the Nipissing University Student Union office on the Education Centre campus. Tickets are $5 for community members and alumni, and free for students.
Ignite North Bay has chosen the Canadore and Nipissing emergency student food banks as their charity of choice for this event.
#Canadore Students' Council #Collaboration #Events #Experiential Learning #First Peoples' Centre #General #Access and Inclusion #Student Life #Student Success Services #WE Student Leadership
---
---