All Stories
Strong Focus on Students Translates into Enrolment Growth at Canadore
Sep 19, 2017 | Canadore College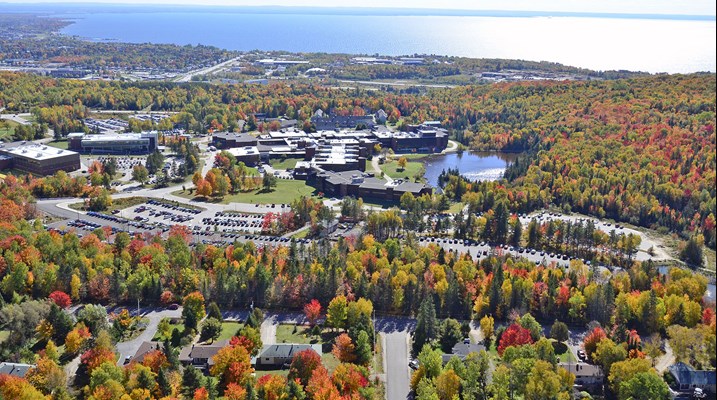 (NORTH BAY, ONT.) – Canadore College is reporting historic levels of enrolment to the Ministry of Advanced Education and Skills Development (MAESD) for its fall semester.
Overall, Canadore's enrolment is documenting growth of 5.5 per cent at its regional campuses, which breaks out into a two per cent increase in domestic postsecondary enrolment (41 students) and 37 per cent higher international student participation (97 students).
"Our fall enrolment count is extremely positive for the entire college and our community," said Shawn Chorney, vice-president of enrolment management, Indigenous and student services. "Our whole team adopts a student-centric approach in all that we do, and our enrolment results are proof that students recognize this dedication by their choice to study here."
In addition to its Aviation Technology, College Drive and Commerce Court campuses in North Bay, Canadore also has a campus in Parry Sound, Ont. and collaborates with educational partners across the province.
Community-led training delivered at Canadore's Aboriginal Institute partners across Ontario is reporting an increase of 37 percent, or 60 more learners. Enrolment at its international partner institute in Toronto, Ont. remains strong at 2,000 students.
"As Canadore commemorates its 50th anniversary, we pause and celebrate the fact that we are marking 2017 with the most diverse and inclusive student population that we've ever seen," said Chorney. "Our shared philosophy of putting students first and our commitment to developing high-quality academic programs to meet the evolving needs of modern employers is working."
Chorney says that Canadore's fall enrolment snapshot doesn't yet include figures from the Canadore/Nipissing collaborative bachelor of science in nursing program, which typically welcomes 400 students a year. Apprenticeship student participation is also anticipated to reach the 350 mark.
On average, approximately 2,800 students relocate to the Nipissing Parry Sound Service Area to attend Canadore College every year. Out-of-region and regionally-retained students accounted for $44.5 million in spending in the Nipissing Parry Sound Service Area, generating $11.8 million in new income.
Canadore College trains people through applied learning, leadership and innovation. It provides access to over 75 full-time quality programs and has outstanding faculty and success services to students from nearly 400 Canadian communities and 15 international countries. The College and its students add nearly $244 million to Nipissing Parry Sound Service Area economy. Approximately 1,000 students graduate from Canadore each year, and they join 44,000 alumni working across the globe. Canadore receives less than 50 per cent of its traditional funding from the provincial Ministry of Advanced Education and Skills Development and relies on its own innovation and entrepreneurial endeavours and generous donors for the balance.
For more information, please contact: Jessica Charette at 705.475.2538 or jessica.charette@canadorecollege.ca; Carrie Richmond at 705.474.7600, ext. 5216 or carrie.richmond@canadorecollege.ca
#Indigenous #Aviation and Aerospace #Collaboration #College Drive #Commerce #Corporate Communications #General #Access and Inclusion #Indigenous Studies #International #Parry Sound #Profile #Recruitment
---
---