All Stories
Student Interprofessional Health Conference Hosted at Canadore College
Feb 3, 2017 | Jessica Charette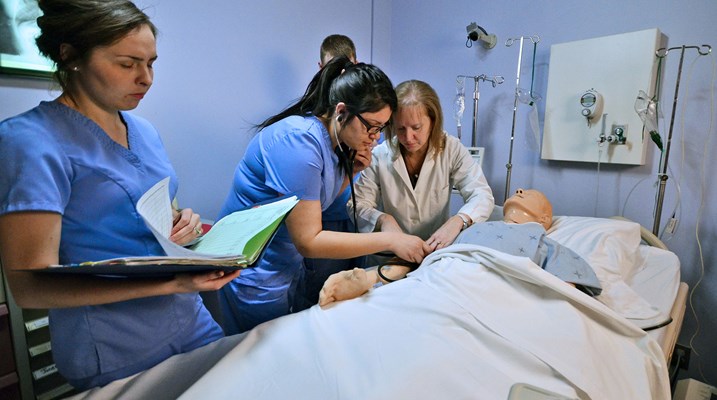 (NORTH BAY, ONT.) – Students from Canadore College will be taking part in a conference highlighting the importance of interprofessional collaboration in education and the workplace on Monday.
The half-day conference will see approximately 350 students from nine programs within Canadore College's School of Health, Human Care and Wellness, including the Nipissing University/Canadore College Collaborative BScN program, apply acquired knowledge from their respective programs to a video case study. The scenario will encourage students to work cooperatively to analyze and discuss interprofessional collaboration competencies from the National Interprofessional Competency Framework (NCIF).
"As we train the leaders of tomorrow to take on critical roles within our healthcare and human service system, it is essential that we teach them how to work with, and complement, each other," said Letitia Nadalin-Penno, Associate Dean and Director of Health Sciences and Collaborative BScN program. "The conference will put their skills, attitudes and behaviours to the test."
Nadalin-Penno goes onto say that research has undeniably established that developing and maintaining relationships that foster an collaborative team approach can improve consumer well-being and health outcomes.
Canadore College is recognized provincially as a leader in the integration of interprofessional education and collaboration competencies into all of our health and human service programs.
Media are welcome to attend.
Event: Student Interprofessional Education Health Conference
Date: Monday, February 6, 2017
Time: 8:30 a.m. – 12 p.m.
Location: Gymnasium, College Drive Campus, 100 College Drive, North Bay, Ont.
Canadore trains people through applied learning, leadership and innovation. It provides access to over 65 full-time quality programs and has outstanding faculty and student services. The College and its students add nearly $290 million to the regions of Nipissing and Parry Sound. Approximately 1,000 students graduate from Canadore each year, and they join 43,000 alumni working across the globe.
For more information, please contact: Jessica Charette at 705.475.2538 or jessica.charette@canadorecollege.ca; Carrie Richmond at 705.474.7600, ext. 5216 or carrie.richmond@canadorecollege.ca
#Collaboration #Experiential Learning #Health, Human, Wellness
---
---