All Stories
Student Leaders at Canadore
Mar 11, 2019 | Ryan Mason, Public Relations Placement Student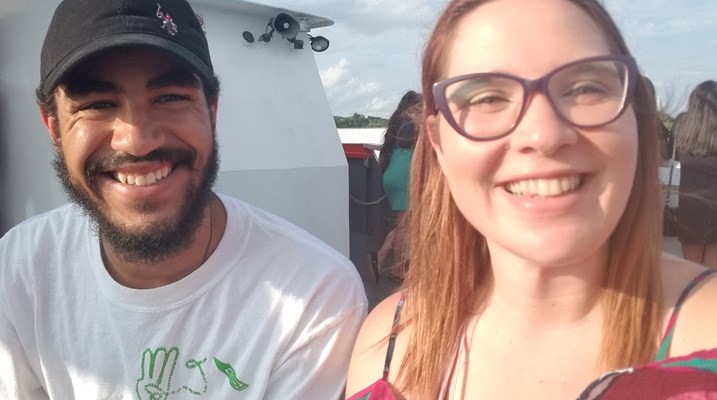 At its core, Canadore is home to a diverse and passionate student body. While term papers, late night study sessions and early morning classes are certainly part of student life, it is often the things squeezed in between that leave lasting impacts on the college, community, and students.
I caught up with two of Canadore's student leaders to hear about what has made their time at Canadore inspiring, memorable and impactful.
Shawn Jones, President of the Canadore Students' Council, is an advocate for the importance of student involvement and leadership. "We often focus on developing the leaders of tomorrow but what about the leaders we can be TODAY?".
As a member of the college's ME to We Group, a group of student leaders tackling social justice themes through awareness campaigns and establishing support resources, Shawn recognized the power and impact student leaders can have on their environment simply by getting involved and standing for important causes.
Throughout his time at the college Shawn has seen his peers celebrate a range of accomplishments but spoke of the recent contributions made by students at the Ignite presentation last week. "To see those students, stand up and talk about what they are passionate about was amazing. They were up there demonstrating what leaders look like and how they can have an immediate impact".
It's clear after speaking with Shawn that his "pay-it-forward" approach to leadership stems from the sincere appreciation he has for the support received from his peers and the dedicated faculty at the college. He hopes that the positive impacts he and his peers have initiated continue well into the future.
Julia Champoux, also a member of Canadore's students council and a ME to We leader, described that personal appreciations from her time as a leader stem from putting projects together and then watching all of the excitement from the sidelines. Julia's description of her leadership style reinforced that not all leaders have to be up front and centre but that all types of people can make impactful and rewarding contributions to their environments.
After being asked about why she likes to be involved, Julia described how she spent her summer out in the community gathering donations for Frosh week. "It is incredible how much support we get from our community. I get involved at school so that I can help my peers accomplish goals that give that support right back!".
Julia's outlook on the relationship between the community and college recognizes the importance of working together. She mentioned that she didn't think that the community would quite be the same without Canadore but also, that the community is a big part of the impact that Canadore is able to have on students. A truly symbiotic relationship!
Chatting with two of Canadore's student leaders helped me understand the profound impacts that we can have when we take the time to squeeze a little bit extra into our days. While we do ultimately find some way of motivating ourselves to get involved it really is the impacts to others that makes it all worth the effort.
#Alumni #Canadore Students' Council #Collaboration #Events #Student Life #WE Student Leadership
---
---