All Stories
THE STRATAGEM GROUP APPOINTS JORDAN SCHINKEL AS DIRECTOR OF NORTHERN OPERATIONS FOR STRATAGEM POST-PRODUCTION
Jun 30, 2020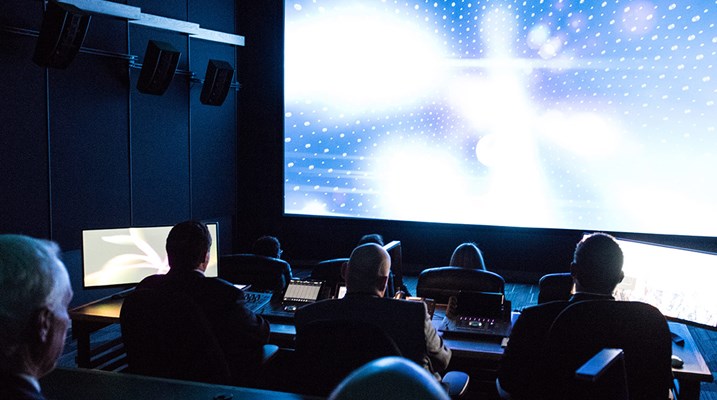 The Stratagem Group is pleased to announce Jordan Schinkel as Director of Northern Operations for Stratagem Post-Production, bringing 20 years of experience in service leadership and post-production to The Stratagem Group's collective of creative companies. As Director of Northern Operations for Stratagem Post-Production, Schinkel will be situated in North Bay to service, grow and strengthen the company's partnerships, and to build upon the growing demand for production and post-production services in Northern Ontario.
"We continue to see the largest growth of film and television production outside of traditional markets, which makes it the perfect time to strengthen the foundation of Post-Production services in Northern Ontario," says Jordan Schinkel, Director of Northern Operations for Stratagem Post-Production. "At the foundation of this industry are the dedicated people who work hard to create quality content and tell their stories. We are excited to be able to provide infrastructure, resources and highly-skilled talent, so they can achieve their visions right here in the North."
Schinkel adds, "I am very excited to be working with The Stratagem Group in partnership with Canadore College to help grow the industry, not only in North Bay, but into the community of film and television professionals already working in the Sault, Sudbury, and all northern communities."
As part of The Stratagem Group's multi-year partnership with Canadore College of Applied Arts and Technology, an innovative North Bay college offering advanced film, post production, television, digital media, and entrepreneurship learning; Schinkel will supervise the exclusive operations of the College's state-of-the-art 5,000 sq.ft. post-production complex, including one of North America's top Dolby ATMOS 4K Theatres. He will continue to collaborate with Canadore College to enhance academic training, as well as play a key role in the design and development of other post-production facilities and services to broaden capacity for an industry that has grown exponentially in Northern Ontario over the past several years.
"We are excited to have Jordan join the Stratagem-Canadore Post-Production initiative. His experience and commitment will expand the capabilities of our post-production facility; and benefit the entire industry as we continue to add resources to support the television and movie industry in the North," says George Burton, President of Canadore College.
Schinkel joins a highly skilled team of screen industry leaders and experts lead by The Stratagem Group's founder and CEO Michael Cerenzie, who oversees a collective of creative companies that strategically advises, curates, services, and produces television and digital streaming projects through every phase of the production pipeline. Stratagem Post-Production is part of an integrated ecosystem that offers forward-thinking solutions in studio development and infrastructure (Stratagem Studios), operations and logistics (Stratagem Rx), labour and training (Stratagem Workforce), and financing solutions (Stratagem Financial) for the creative sector.
"We are excited to be able to offer post-production services to our clients as part of the Stratagem Rx's suite of services, and to be an active partner with Canadore College in the expansion of Ontario's Northern production hub," says Alex Lalonde, COO of Stratagem Rx. "Jordan's many years of experience in post-production will be a formidable asset to Stratagem Post-Production, Stratagem Rx, Canadore College, and most notably to the film and TV industry already flourishing in Ontario's North."
Jordan brings 20 years of industry experience working at some of Canada's premier production houses. He began his career at CTV Southwestern Ontario working his way through every aspect of technical operations, before settling in Toronto as a freelance editor and post-production consultant. He quickly gained industry recognition as a Post Supervisor and workflow specialist on shows for CBC, Discovery and Food Network Canada, and was Manager of Factual Post-Production, East Coast for eOne Entertainment. Most recently, Jordan was the Managing Post-Supervisor at Guru Animation Studio, overseeing content delivery to industry leaders including Netflix, Disney and CBC Kids.
Under Schinkel's leadership, Stratagem Post-Production is primed to set the standard for post-production in the North to offer affordable, top-tier "sound and light" services that encompass a wide range of post-production needs, from DIT and dailies workflows to full-service audio and video finishing, with unmatched fibre optic bandwidth, an ADR recording room, and an industry-standard Colour Correction suite with a fully calibrated SONY BVM- X300 4K OLED grading monitor.
About The Stratagem Group
The Stratagem Group (Stratagem) is a collective of creative companies and a catalyst for transformative change in society and economies. Stratagem's integrated portfolio of companies focuses on the development of globally competitive talent and content in Ontario, designed with and in support of extraordinary local, national and international partners, collaborators and clients. Stratagem offers unique solutions in studio development and operation, content creation, finance and production service, post-production and workforce development working with top-tier partners within Ontario and from around the world.
The Stratagem Group is committed to building and repurposing over 1 million square feet of studios and facilities. Working with a global team of film industry leader, architects, designers, and engineers, The Stratagem Group is committed to supporting all of Ontario's local, provincial, national and international production demand needs and aspirations. For more information, visit stratagemgroup.ca.
About Canadore College
Canadore College trains people through applied learning, leadership and innovation. It provides access to over 75 full-time quality programs and has outstanding faculty and provides success services to students from nearly 400 Canadian communities and 15 international countries. The College and its students add nearly $244 million to Nipissing Parry Sound Service Area economy. Approximately 1,000 students graduate from Canadore each year, and they join 46,000 alumni working across the globe. Canadore receives less than 50% of its traditional funding from the provincial Ministry of Training, Colleges and Universities and relies on its own innovation and entrepreneurial endeavors and generous donors for the balance.
# # #
All trademarks are the property of their respective owners. © Copyright Stratagem Financial Inc. 2019. All Rights Reserved.
Further information, contact:
Tran Nguyen, Centric PR
c/ 416-220-4285
---
---