All Stories
The Village -- have you seen it?
May 4, 2018 | Canadore College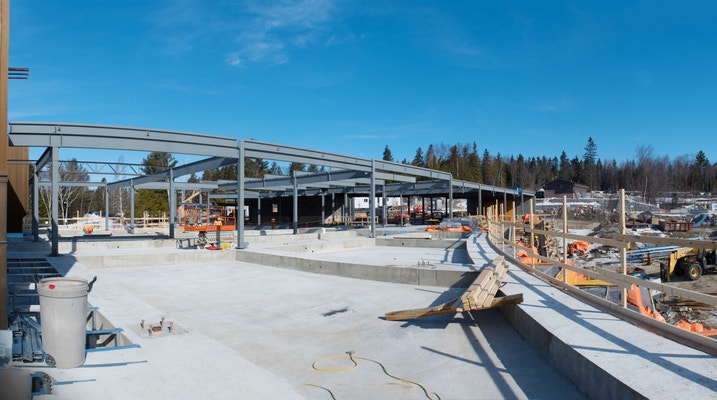 By Jessica Couch, École secondaire catholique Algonquin co-op student
You might have seen construction going on at Canadore College. You might have taken a second look and had no idea what they're building, or think that it's just more classrooms, more labs or just a bigger school area for the students and profs. Because that's exactly what I thought. But it's not, it's much better than anything you can think of -- it's The Village.
Ever since Day One of my co-op, I've been learning more and more tidbits about The Village as a part of tours, lectures and announcements, but I know I still have more to learn.
What I've been learning is that The Village is a place for everyone, a place to provide health care needs, and a place to feel safe and welcomed.
Our population of Baby Boomers is growing older and The Village provides a solution by giving hands-on learning to students passionate about health care and giving seniors the help they need in a positive environment.
From my perspective, I see that this is something Canadore has been working towards for a long time and everyone is passionate about it, including the students, who recently donated $300,000 to The Village.
What I think about when I see The Village is my family and the help that The Village could provide to them and my future.
Not only that actually, but about the students and how they'll advance from the experience and hands-on learning that they will take out into the world when they graduate.
Obviously it's not only Canadore who cares and who is involved in The Village, it's a lot of people. On my first day of co-op I attended an announcement; little did I know it was a $200,000 donation for The Village from the Deacon family. Right then I realized how much of an amazing impression Canadore makes on people including me.
As a high school student wanting to help and make a change in the world, I'm extremely happy that I'm soaking up as much as I can about The Village because I know it'll be a brighter tomorrow.
#Canadore Foundation #Canadore Students' Council #Collaboration #College Drive #Experiential Learning #General #Program Development #Programs #Recruitment #Student Life #The Village
---
---