All Stories
The Village to Provide Ability to Eradicate Hep C in Nipissing District
Aug 1, 2018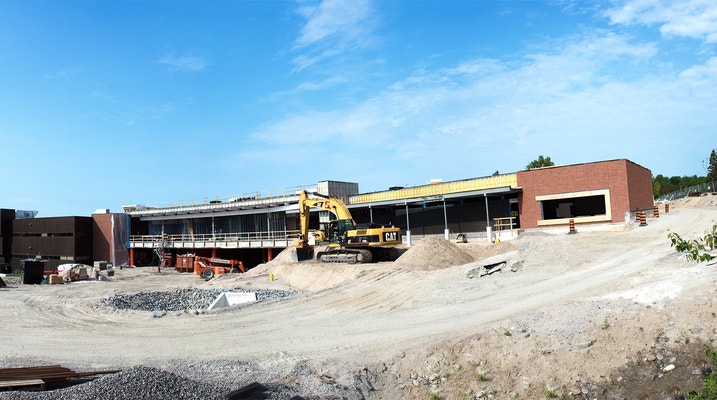 (NORTH BAY, ONT.) – Today, George Burton, president and CEO of Canadore College, proudly announces that the college is entering into a formal agreement with Liver Care Canada (LCC) to create a Liver Centre of Excellence.
The Centre will be housed at The Village, Canadore's living model of class-leading health, human care and wellness education complex, and will service North Bay residents and neighbouring communities.
"Our partnership with Canadore College speaks to our goal creating a Canada free of Hep C," said Karim Ragheb, president and CEO at LLC. "The move allows us to offer effective management of any liver disease for the people of the Nipissing District, similar to the impact we've had across the province."
According to guidelines recently published by the Canadian Association for the Study of the Liver, a national group of researchers and health-care providers, every Canadian born between 1945 and 1975 should be tested for the hepatitis C virus, which can lead to cirrhosis of the liver or liver cancer. More than 250,000 Canadians are believed to be infected, but it is estimated that 40 to 70 per cent of this population remain unaware.
The Village and LCC are very keen on the initiative of HCV eradication across the province, the new centre will provide proactive screening for high-risk populations, ranging from blood analysis to non-invasive assessments through LCC's FibroScan® diagnostics program. Positively-diagnosed patients will be managed by a multidisciplinary team of LCC specialists in up to 80 per cent less time than the provincial average, which is one year.
The Village-LCC's liver clinic services will be concentrated in rural and smaller urban centers surrounding North Bay, as well as northern Ontario Indigenous communities, whose residents are at a higher risk for HCV. As a part of screening initiatives, testing for HIV will be included at no additional cost to patients.
In addition to screening and postsecondary program support and development at Canadore, LCC has committed to providing educational and awareness programs for the general public.
"We are absolutely thrilled to have Liver Care Canada join The Village community," said George Burton, president and CEO of Canadore College. "Between the new services that will be available to regional residents and the health care expertise that will help us to build our curricula, we are one step closer to achieving our goal of changing the face of health care in Canada."
LCC is dedicated to the care of patients dealing with conditions affecting the liver, pancreas, biliary and digestive systems. In line with LCC's commitment to the management of liver disease in outpatient settings across Canada, LCC clinics offer management of many liver conditions including hepatitis C (HCV), hepatitis B (HBV), fatty liver disease, hepatic encephalopathy, hepatic cellular carcinoma, and primary biliary cholangitis (PBC).
The Village concept by Canadore College is the only model of its kind in Canada, focused on collaborative interprofessional education and the integration of Indigenous, Eastern and Western healing and wellness practices. The centre will integrate seniors' and community care, with teaching, experiential skills training and applied research provided by North Bay, Ontario's Canadore College -- all in one facility.
Liver Care Canada will be an exhibitor at North Bay's Summer in the Park festival on August 3-5, providing opportunities for the public to visit their team at their mobile clinic van in order to see how easy it is to get tested and to obtain more education on liver disease prevention and treatment.
Canadore College trains people through applied learning, leadership and innovation. It provides access to over 75 full-time quality programs and has outstanding faculty and provides success services to students from nearly 400 Canadian communities and 15 international countries. The College and its students add nearly $244 million to Nipissing Parry Sound Service Area economy. Approximately 1,000 students graduate from Canadore each year, and they join 45,000 alumni working across the globe. Canadore receives less than 50 per cent of its traditional funding from the provincial Ministry of Advanced Education and Skills Development and relies on its own innovation and entrepreneurial endeavors and generous donors for the balance.
For more information, please contact: Jessica Charette at 705.475.2538 or jessica.charette@canadorecollege.ca; Carrie Richmond at 705.474.7600, ext. 5216 or carrie.richmond@canadorecollege.ca
#Aboriginal #Collaboration #College Drive #General #Health, Human, Wellness #New #Program Development #Programs #The Village
---
---