All Stories
Theatre Canadore marks second season in brand new campus theatre
Apr 13, 2022 | Cindy Males, Public Relations and Communications Specialist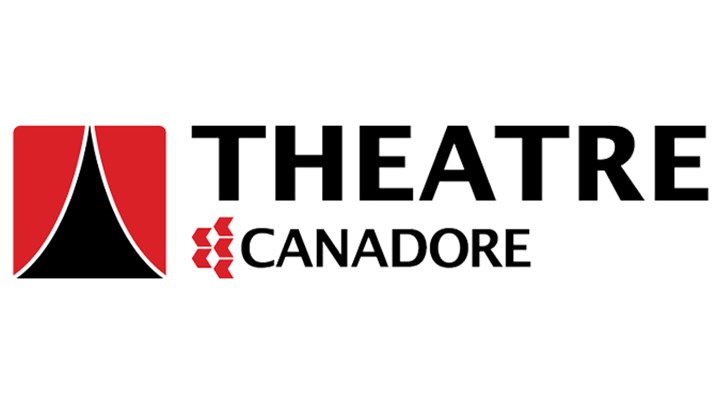 Theatre Canadore will mark its second season with the Northern Ontario premiere of Orphans for the Czar. The three-night run begins Thursday, April 21, 2022, at 7:30 p.m., in the new Canadore Theatre at the College Drive Campus. The price of admission is a donation to The Gathering Place.
"Orphans for the Czar is a stunning new high-stakes comedy for unstable times set in Russia in 1905," said Rod Carley, Artistic Director of Canadore's Acting for Stage and Screen program. "There are many interesting parallels with the choices facing Russia at this very moment."
Orphans for the Czar is a comedy by playwright George F. Walker, inspired by the novel The Life of a Useless Man, written by Russian 19th century writer, Maxim Gorky. The story takes place during events surrounding Bloody Sunday in St. Petersburg where hundreds of unarmed demonstrators were killed or wounded by Imperial forces as they marched on the Czar's Winter Palace.
"We need to listen closely to the echoes of history and avoid replaying the discordant notes of the past," said Carley. "George's mastery of playwriting has allowed him to create a play that dives fearlessly into the violent convulsions of history while dancing with the structure of farce. He delivers a message of hope; we need to bind ourselves to each other, recognizing that without one another we are lost."
Walker is one of Canada's most prolific, decorated, and popular playwrights. He began his theatre career in the early 1970s, and has written more than 30 award-winning plays.
"As an actor, it's my job to tell the truth from all sorts of perspectives," said Mercedes Jade, Acting for Stage and Screen student. "Orphans for the Czar explores the depths of grief, survival instincts, optimism, pessimism, and everything in between. Comparing this performance to the Ukraine/Russia situation reminds me of how Shakespeare would write plays surrounding current events. It's very interesting to think about how much history and truth theatre has preserved over the centuries, and I'm very proud to be a part of it."
Canadore's production of Orphans for the Czar will also celebrate the completion of the new theatre at Canadore's College Drive Campus.
"Theatre Canadore marks the culmination of actor training for the Acting for Stage and Screen program," said Carley. "The theatre is always a celebration of becoming rather than being. All living things change from second to second, and the theatre is very much a living thing, changing actively but imperceptibly from moment to moment."
"These past two years have been challenging for our students. They never lost hope. During this period, Canadore College built an intimate new theatre. It is a much-needed gift for the program," said Carley. I am thrilled that Orphans for the Czar marks its inaugural production."
Formerly known as Rep 21, the acting company name officially changed in 2021 when the scope of the program evolved to combine film-acting techniques. The Acting for Stage and Screen program offers career-oriented actors with the fundamental tools, skills and professionalism for success in the highly competitive world of theatre, film and television. The three-year program combines theory and practice to give students a solid foundation of essential skills and techniques necessary to work as a performer in all aspects of today's entertainment industry.
More information about the Acting for Stage and Screen program is available here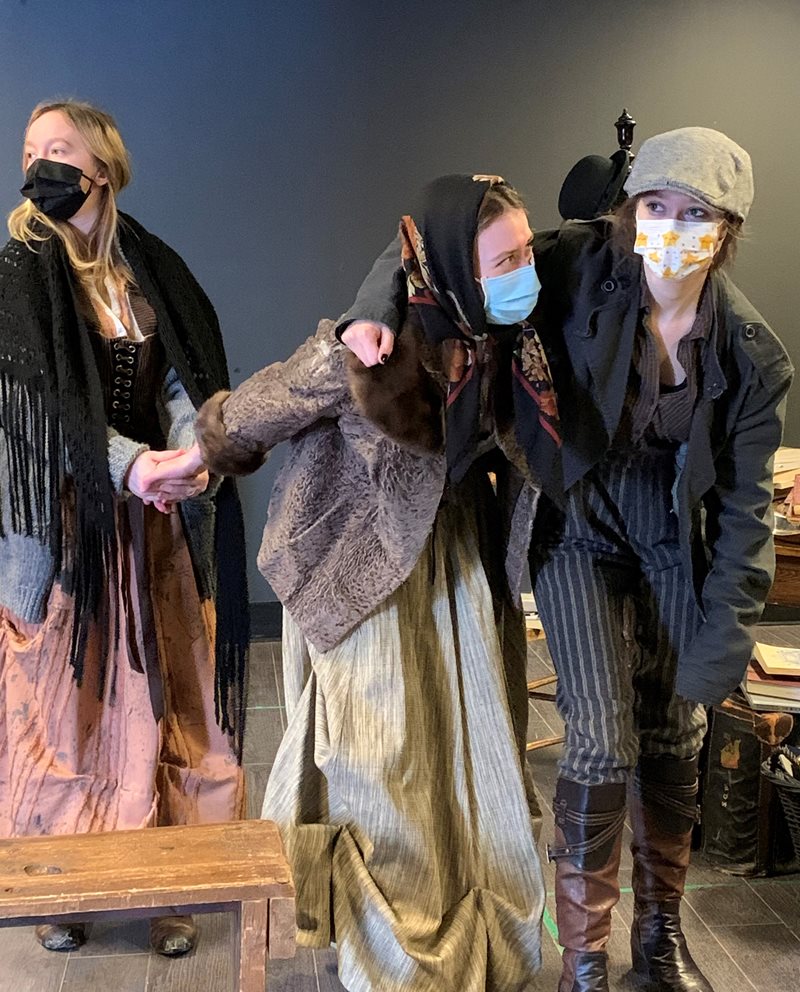 Rehearsal production still from Orphans for the Czar. L. to R. Cassidy Walker as Rayisha, Mariah Boehk as Olga, and Mercedes Jade as Maya flee the Czar's soldiers.
Disclaimer: For mature audiences only: Canadore College understands the subject of this production may be upsetting to some, especially given the ongoing situation in Ukraine. This is a story of courage – a courage now being reflected in the people of Ukraine defending themselves and their country.
Please note: As per the provincial regulations, Canadore College is maintaining its COVID-19 mask mandate and vaccination policy. Everyone who attends should complete a self-assessment before coming onto campus. Do not come to the College if you are sick or isolating.
---
---