All Stories
VIPs at Graduation
Jun 6, 2023 | Vanessa Tignanelli, Storyteller & Content Creator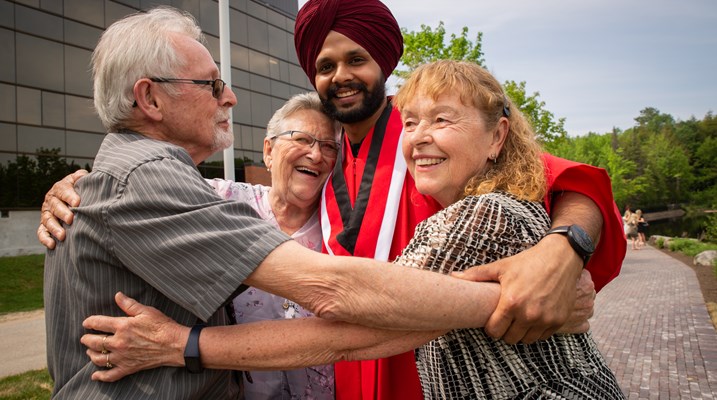 Every day, seniors from the community of North Bay visit Canadore College to participate in the Village's Collective Impact Project (CIP). This project supports intergenerational learning, healthy aging, and to give students the opportunity to connect with elders.
Last week, we witnessed just how impactful this project has been for some.
Amanjot Singh (26) arrived at Canadore College in 2021, hailing from the rural farming community of Gagra in Punjab, India. An instilled Sikh value system to respect his elders first fueled Amanjot's interest in the Village's program. In Winter 2022, Amanjot completed a four-month placement working alongside the CIP's senior participants (VIPs or "Very Important Panthers" as they are known at Canadore.)

Cheryl Holtzhausen, Henry DeRuiter, and Laurel Brooks are three of Canadore's VIPs. They arrive at campus nearly every day to participate in chair yoga, walking groups, to volunteer, or to spend time with our students. Each day of his placement, Amanjot would participate in their activities, and soon they grew to feel like family.

"You could feel his connection to people right away," says Cheryl. "I appreciated his values, his commitment to his studies, and his care for the people in his life."
"We were bringing our cultures together," says Laurel, describing a time when Amanjot taught the group how to do a Punjabi dance. "We have learned a lot from him. International students must give up so much to come here."

Amanjot graduated from the two-year Social Service Worker program last Friday, June 2nd. As his family gathered to watch a livestream of the ceremony in India, our VIPs sat in the audience as his invited guests.

"It was an honour to be asked to represent his family and to celebrate him – he's very special, and we are all very proud of him," says Henry.

"I feel privileged that he feels like we're his family," says Cheryl, who is referred to as 'bibi' by his friends, a Punjabi word meaning mother. She and Amanjot have already made plans for her to travel to India to attend his wedding one day.
An otherwise unlikely friendship has grown from the shared respect and the fun that this group experiences at Canadore College together each day. As we observe this bond that has been made through the Village's Collective Impact Project, it is clear that it has succeeded in its goal to foster intergenerational and cross-cultural learning. Yet it has also empowered both our students and seniors to feel welcome and appreciated for their contributions wherever they go. This is something that we hope all our graduates take with them as they venture off into the world to make great things happen.

Learn more about the Collective Impact Project here: https://www.canadorecollege.ca/the-village/seniors-project
---
---