All Stories
Welcome Pow Wow returns at Canadore College and Nipissing University
Sep 20, 2021 | Cindy Males, Public Relations and Communications Specialist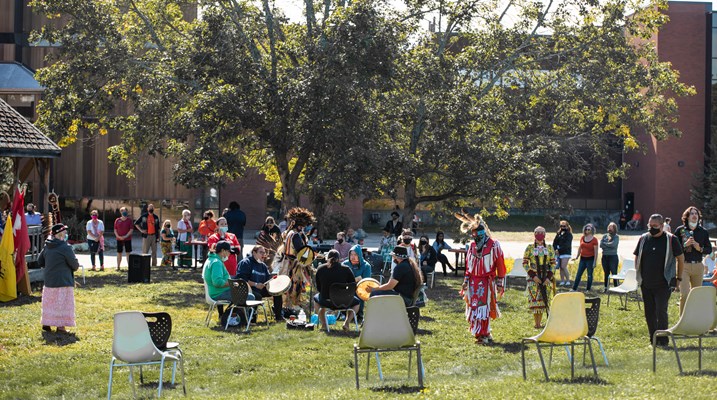 The sounds of drumming and singing could be heard once again on the campus of Canadore College and Nipissing University on Friday for the 15th annual Welcome Pow Wow. The traditional event was cancelled last year because of the COVID-19 pandemic, but organizers were able to bring it back this year as some public health restrictions were lifted. Participants were asked to register, and the capacity limit for people on the Pow Wow grounds was quickly reached.
"It's a good feeling having Pow Wows again," said Canadore student Margaret Jamieson-Hopkins. "Pow Wows are always a nice way to get together with the community and to have all non-Indigenous people welcome into our culture."
The annual Pow Wow celebrates a vibrant Indigenous culture that both institutions encourage. The event is a way to celebrate Indigenous heritage and preserve tradition.
"It's nice to be with community," said Nipissing student Page Chartrand. "And, with new community as well. I transferred over from Laurentian, so coming into this space and being welcomed in this way is very nice."
"First of all you're providing for Indigenous students to come together from both post-secondary institutions and to meet each other, but also allowing a chance for non-Indigenous students and employees to observe our ways in a safe, open way and welcoming way," said Chartrand.
More than just an opportunity for participants to gather in person, for many this year's Pow Wow is even more important as Canada's tragic history of residential schools continues to unfold.
"It doesn't change anything," said Jamieson-Hopkins. "But I think it's more important now because the residential schools really took away our culture, our traditions, our relationship with the land and with each other. Pow Wows are a major way to bring that back and to introduce it to non-Indigenous people to teach them more about us and our history."
"It is so important to gather in person because you really have that more personal connection being able to watch the dancers, to hear the drum," said Jamieson-Hopkins. "Pow Wows are kind of like a healing ceremony. It's definitely something we all need after the pandemic."
#Aboriginal #College Drive #Events #First Peoples' Centre #Indigenous Studies #Office of the President #Student Life #Canadore College
---
---