All Stories
$3.4 Million for Canadore College; Includes Plumbing Training
May 2, 2022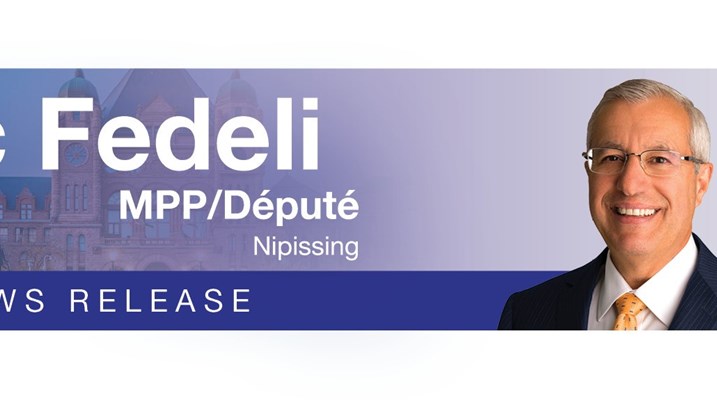 The Ontario government is announcing $3.4 million for Canadore College, including expanding Canadore College's class offering to include plumbing. The change means young people and job seekers in North Bay interested in pursuing rewarding careers as plumbers will be able to do so conveniently in North Bay, Vic Fedeli, MPP for Nipissing, announced today.
"When you have a job in the skilled trades, you have a job, and there is as much merit in plumbing as there is in law, medicine or accounting," said Vic Fedeli. "We were thrilled to see this training program for Canadore College and everyone in North Bay. Our government will continue to knock down barriers to the skilled trades and fight the stigma, so more young people in Northern Ontario have pathways to these life-changing careers."
The current wait time for Northern Ontario apprentices in the Plumber 306A trade to attend school is approximately 17 months. Expanding this training to Canadore College means students in North Bay will be able to enter training significantly faster, and local employers will be able to find the apprentices they need to keep up with growing demand.
There are currently more than 500 people working as plumbers in Northeastern Ontario, where salaries can average over $65,000 a year. However, local employers continue to face a shortage of qualified apprentices, and demand for these workers is expected to increase.
"Canadore College appreciates the ongoing support and investments in the skilled trades by the Ontario government. The funds for our plumbing program will be used to continue our program development to meet the needs of the current and evolving trades workforce, as we build the Ontario economy. Our vision is to continue enhancing our world-class skilled trades environment that is preparing our students to enter the workforce with the latest skills, while helping to meet the growing demand for plumbing graduates in the province", said George Burton, President and CEO of Canadore College.
"By 2025, one in five jobs in Ontario is expected to be in the skilled trades," said Monte McNaughton, Minister of Labour, Training and Skills Development. "We need to act now to help train the next generation of mechanics, welders, and heavy equipment operators. Our investments will ensure apprentices have access to high-quality tools and training as they pursue rewarding and well-paying careers in the skilled trades."
The funding announced today is part of the government's $1.5 billion Skilled Trades Strategy. This builds on the government's ongoing efforts to attract, support, and protect workers, making Ontario the top place in the world to work, live and raise a family.
Canadore College already has the equipment and expertise in place for the plumbing 306A curriculum, and the College has extensive experience delivering the Mechanical Techniques-Plumbing program. For more information, or to register for the program, contact admissions@canadorecollege.ca or 705.474.7600 ext. 5123.
Canadore College funding includes the following:
| | | | |
| --- | --- | --- | --- |
| Name of Program | Agreement Amount | Start Date | End Date |
| In-Class Enhancement Fund | $1,453,443.00 | 01-Apr-22 | 31-Mar-23 |
| Literary and Basic Skills Training | $882,376.00 | 01-Apr-22 | 31-Mar-23 |
| Apprenticeship Capital Grant | $523,746.00 | 15-Jul-21 | 14-Jul-22 |
| Apprenticeship Capital Grant – Automotive Service Technician | $331,000.00 | 01-Apr-22 | 06-Sept-22 |
| Apprenticeship Capital Grant | $200,527.00 | 01-Apr-22 | 31-Mar-23 |
| Second Career | $80,000.00 | 01-Apr-22 | 31-Mar-23 |
Quick Facts
Ontario allocates $24 million through the Apprenticeship Capital Grant each year. $18 million goes to apprenticeship training delivery organizations to help them increase their training capacity. In addition, training organizations can apply for project funding through a $6 million Call for Proposal.
There are 144 skilled trades in Ontario.
As of September 2021, there were over 360,000 unfilled jobs in Ontario, many of which were in the skilled trades.
Data suggests that the need to replace retiring workers is greater for skilled trades workers than for other occupations. In 2016, nearly one in three journeypersons in Ontario were aged 55 years or older.
The Apprenticeship Capital Grant is supported by labour market transfer agreements between the Government of Canada and the Government of Ontario.
Additional Resources
-30-
For more information, or to arrange an interview, contact:
Keri Buttle
Constituency Office
(705) 474-8340
keri.buttle@pc.ola.org
---
---