All Stories
Bell Let's Talk Day 2022 – Canadore College is part of the conversation
Jan 25, 2022 | Cindy Males, Public Relations and Communications Specialist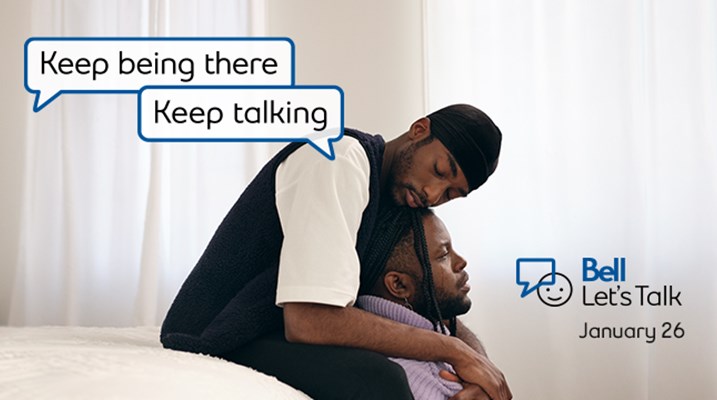 Bell Let's Talk Day has been called "the world's largest mental health conversation", and Canadore College is once again taking part. Bell Let's Talk Day 2022 is Wednesday, January 26. Canadore will be setting up booths and providing students with information on how to access mental health supports no matter where they are learning.
"Our booths will have swag bags for students with a variety of resources relating to mental health supports available both on and off campus," said Erin Plourde, Canadore's Access and Inclusion Coordinator. "We can connect with students and provide further information on what services we offer on campus, or ways to connect with various agencies within our community for additional support."
Students attending classes at any of the three North Bay campuses can stop by one of the Student Success Services booths between 10 a.m. and 2 p.m., and students at our West Parry Sound campus can pick up a bag on their way into the campus.
Students learning remotely can also get support and/or request a swag bag by contacting Student Success Services at studentsuccessnow@canadorecollege.ca. The swag bag and information will be mailed directly to the students.
Every year on Bell Let's Talk Day, Bell donates 5¢ for every text, call, tweet, or TikTok message tagged with #BellLetsTalk. Since the campaign began in 2010, more than $121 million has been committed to mental health programs with more than 1.3 million interactions registered.
"It is important to host events like this to end the stigma around mental health and to provide students with information about available support," said Nevin St. Onge, Triage Navigator, Student Success Services. "The intent is also to encourage people to use the Bell Let's Talk hash tag to prompt Bell's donation to mental health initiatives". Canadore College has benefited from the funds raised by Bell Let's Talk Day to implement the strategies outlined in its Mental Health and Well-Being Strategy.
Canadore acknowledges that students continue to face challenges, stress and anxiety as they steer through changing circumstances resulting from the COVID-19 pandemic. The College's Mental Health and Well-Being Strategy outlines a systemic approach to promoting mental health and well-being; it is the foundation on which Canadore continues to offer the most effective initiatives and provides direction for the development of new initiatives to ensure a strong campus culture is in place which recognizes, responds, refers and supports students who need assistance.
"The onset of mental health issues most often occurs between the ages of 18 to 25, so it is imperative that the College has the appropriate supports" said Shawna Nielsen, Director, Student Experience and Success. "We have a great team in place to support students with their mental health during their post-secondary journey, and we encourage students to reach out before the symptoms become unmanageable".
Canadore College recognizes the ongoing pandemic may be causing additional stress and anxiety to employees and their families. The College encourages its employees to reach out to any of the supports listed below.
Bounce Back program -- https://bouncebackontario.ca/adults-19/ A guided self-help program that's effective in helping people who are experiencing mild to moderate anxiety or depression, or who may be feeling low, stressed, worried, irritable or angry. It has practical tips on managing your mood, sleeping better, building confidence, increasing activity, problem solving and healthy living.
Canadian Mental Health Association – If you or someone you care about needs access to immediate help for mental health concerns, the following helplines are available and/or you can seek help from a local hospital emergency room or acute care site.
Use Ontario 211

:

to look up services available in our area.
The Black Youth Helpline offers support for all youth and specifically responds to the need for a Black youth specific service, positioned and resourced to promote access to professional, culturally appropriate support for youth, families and schools. 1-833-294-8650
The Hope for Wellness Help Line offers mental health counselling and crisis intervention to all Indigenous peoples across Canada. 1-855-242-3310
Métis Nation of Ontario (MNO) offers a 24-hour Mental Health and Addictions Crisis Line with culturally-specific mental health and addiction supports for adults, youth, and families in Ontario in both English and French. 1-877-767-7572.
Kids Help Phone
Children and teens can speak with a counsellor 24/7 by calling Kids Help Phone at 1‑800-668-6868 or texting CONNECT to 686868.
School Mental Health Ontario - smho-smso.ca/ offers a number of great resources for students, parents and families.
Employee Assistance Program (EAP) -- Access is available 24 hours a day, 7 days a week at workhealthlife.com or by dialing 1.844.880.9142.
Wellness resources collection – Some helpful resources for employees and their families have been curated and saved here: https://www.canadorecollege.ca/about/staff-resources/wellness-resources
studentsuccessnow@canadorecollege.ca

– support to help guide Canadore students to success through learning strategies, mental health and wellness events, and by reducing and/or removing educational-related barriers through accommodation planning.
---
---