All Stories
Canadore College and North Bay Police Service Announce Strategic Alliance
Feb 20, 2019 | Canadore College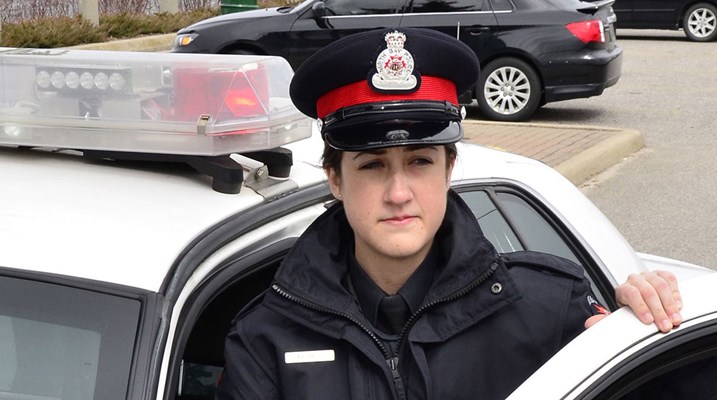 (NORTH BAY, ONT.) – Earlier today, the North Bay Police Service and Canadore College announced a strategic alliance to enhance and support Anishinabek members and communities.
The mutually-beneficial agreement is centred around providing positive opportunities for Anishinabek individuals, families and neighbouring communities. As a part of the principles-based agreement, Canadore's First Peoples' Centre will be a resource to the police service with respect to Indigenous cultures in Canada and will consult on how local law enforcement can increase their effectiveness and understanding when responding to the needs of Indigenous persons.
"We truly believe that the North Bay Police Service has a constructive role to play in truth and reconciliation," said Shawn Devine, Chief of the NBPS. "We are committed to working with Canadore College to provide our membership with much-needed education about the history of Indigenous Peoples in Canada, which will in turn allow us to evolve our efforts in a positive way."
The college will certify a number of NBPS officers to be Walk A Mile cultural awareness trainers, and will then co-facilitate education sessions to be rolled out to the service's employee groups. Canadore will also facilitate offering additional certifications such as the Mental Health Aid for First Nations training for staff and first responders.
In return, the NBPS will work with the college to provide interprofessional simulation expertise, perspective and knowledge to reinforce students' learning within the School of Community Justice and Police Studies.
Both parties are also committed to developing the province's first full-time postsecondary Indigenous restorative justice program. By definition, restorative justice focuses less on punishment and more on the rehabilitation of an offender, which also includes reconciliation with the victims. Research suggests that upon repairing harm and providing healing, offenders take on meaningful accountability that prevents further crime.
"Canadore is very proud to be forging this alliance with our local police service," said Shawn Chorney, vice-president of enrolment management, Indigenous and student services. "The college has been delivering culturally respectful and holistic Indigenous education for well over 30 years and this partnership will strengthen our communities for years to come."
The four-year agreement was acknowledged and detailed at today's NBPS board meeting.
Canadore College trains people through applied learning, leadership and innovation. It provides access to over 75 full-time quality programs and has outstanding faculty and provides success services to students from nearly 400 Canadian communities and 15 international countries. Nearly 20 percent of Canadore's total student population is of Ojibway, Oji-Cree, Cree Algonquin, Mohawk, Inuit or Métis descent from Ontario, Québec and nation-wide, one of the highest representations in the provincial college system. The College and its students add nearly $244 million to Nipissing Parry Sound Service Area economy. Approximately 1,000 students graduate from Canadore each year, and they join 45,000 alumni working across the globe. Canadore receives less than 50 per cent of its traditional funding from the provincial Ministry of Training, Colleges and Universities and relies on its own innovation and entrepreneurial endeavors and generous donors for the balance.
For more information, please contact: Jessica Charette at 705.475.2538 or jessica.charette@canadorecollege.ca; Carrie Richmond at 705.474.7600, ext. 5216 or carrie.richmond@canadorecollege.
#Aboriginal #Alumni #Collaboration #Comm Justice #Employer Services #Experiential Learning #First Peoples' Centre #General #Access and Inclusion #Indigenous Studies #New #Police Foundations #Profile #Program Development #Programs #Recruitment #Safe Campuses
---
---