All Stories
Canadore College doing more to help students adapt to campus life
Aug 24, 2020 | Cindy Males, Public Relations and Communications Specialist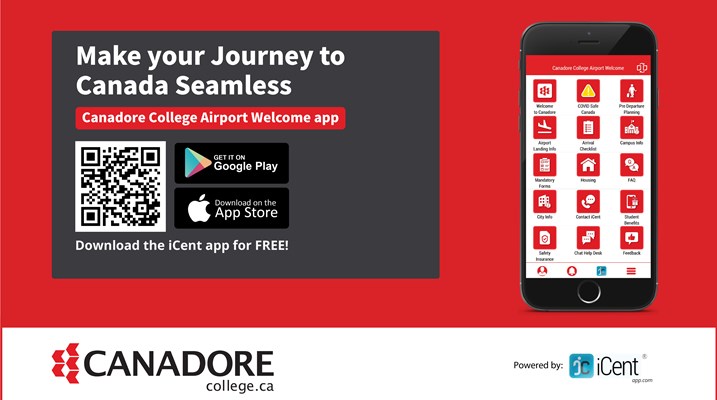 Canadore College has a new tool to help its students better adapt to college life. The iCent app will help students better prepare and adjust to life on campus.
The app has links to COVID-19 information and updates, orientation and financial aid information, student supports, and FAQs.
"We are always exploring ways to make the students' transition to Canadore seamless for them and their families. The iCent app is one more way we can do that," said Canadore College President George Burton.
The iCent app is mandatory for international students because it links to important information they must read, forms they must complete and submit through the app, and COVID-19 quarantine guidelines they must adhere to.
"The app is another tool in the toolbox of students and the college community in support of navigating the student experience," stated Shawn Chorney, Canadore's Vice President Enrolment Management, Indigenous and Student Services. "Because the app was designed with the international learner in mind, it contains an incredible amount of information from the basics through to accessing student health coverage and supports and as such, we encourage all students to download it as a useful tool to enhance their confidence and success."
Domestic students can choose whether to download it, and the app will be useful for them as well.
"The app was built to help our students navigate their new environment, which is especially important at a time when COVID-19 has altered the new student experience," said Josh Willard, Canadore's Marketing and Social Media Supervisor.
All personal information will be collected, used and disclosed in accordance with applicable privacy legislation.
The app is available for download today on the App Store, Google Play, or through our iCent webpage - www.canadorecollege.ca/icent
#Admissions #Student Life #Student Success Services #News #George Burton #Canadore College #President #Vice President #Shawn Chorney
---
---