All Stories
Canadore College graduate receives international recognition
Aug 25, 2022 | Cindy Males, Public Relations and Communications Specialist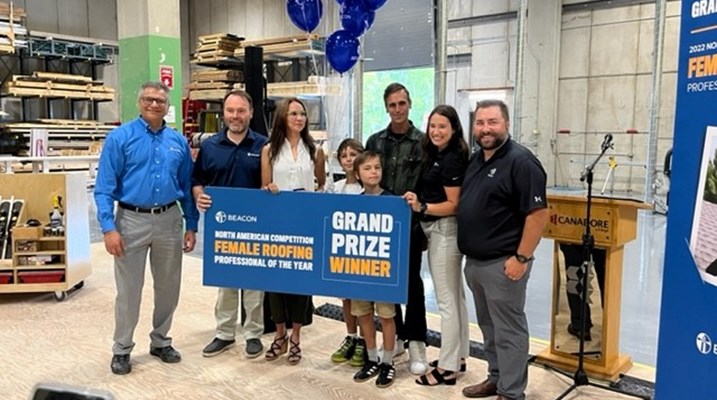 Michelle Mulder got a chance to celebrate being named North American Female Roofing Professional of the Year at the place where it all began – the carpentry shop at Canadore College's Commerce Court Campus.
"I asked to host the ceremony at the College since it was where I first discovered my passion for roofing," said Mulder. "We had just started the section on exterior finishes and we were learning about shingles. After that class, on my way home, I couldn't stop looking at roofs. I saw so many that needed to be fixed or reshingled. I knew it was something I wanted to do. Still, to this day, I am constantly driving around looking at roofs."
Mulder graduated from the Building Construction Technician program in 2005 and, after working in the industry for a while, started her own business, Nailed It Roofing, in 2015. A member of the College's Construction Program Advisory Committee (PAC), she takes very seriously her role as mentor to other young women looking for a career in the trades.
"I think awards like this are inspiring for other women who are wanting to be in the trades," Mulder said. "If they see women being successful it may motivate them to follow their own dreams."
Beacon Roofing Products is headquartered in the United States, with outlets in Canada. Mulder was one of more than 650 nominees. The online competition narrowed the field down to five finalists – Mulder was the only Canadian on that list.
Company Vice-President Charles Michaud says more needs to be done to attract women to the construction field.
"There is definitely an understanding we cannot just tap in 50% of the labour force – we're missing the other half. "I think over the last 20 years the realization is that we need to do a much better job of promoting careers in our industry in order to really help with the issue that has been a real problem – a labour shortage and lack of talent all around."
"We are proud of all our graduates, and we congratulate Michelle for receiving this recognition," said George Burton, President and CEO. "Through our programs and apprenticeships, Canadore is delivering on its promise to produce workers with the proper skills to meet industry demands in a variety of sectors."
---
---