All Stories
Canadore College Graduates to be Celebrated
Jun 13, 2018 | Canadore College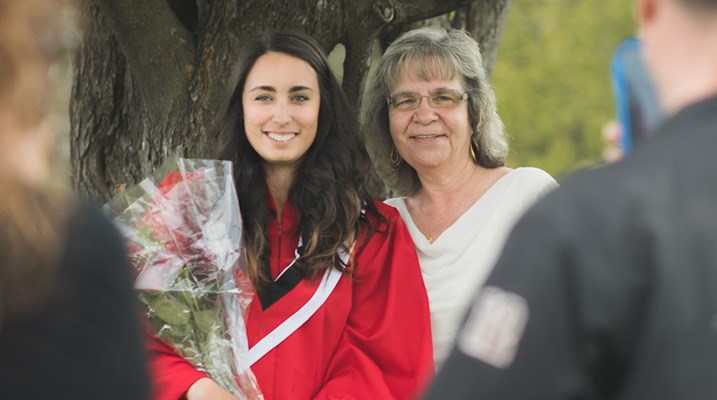 (NORTH BAY, ONT.) -- Canadore College is hosting its Convocation Ceremonies for the Schools Business and Management; Community Justice and Police Studies; Culinary Arts; Language, Access and Preparatory; Media, Design and Dramatic Arts; and Sport and Recreation on June 15.
Guest speaker Amber MacArthur, president of AmberMac Media and one of Canada's top digital media journalists, will be speaking to approximately 390 graduates.
MacArthur started her career in San Francisco and Boston during the dot-com boom in the late 1990s. As a strategist for Razorfish and Director of Marketing for an e-procurement software company, she spent four years in the technology start-up trenches. MacArthur left the start-up world to join Microsoft to build one of the first female-focused lifestyle portals. In 2007, she started her own digital marketing agency. The company's first client was world-renowned business coach Tony Robbins. Their client list also includes Microsoft, Intel, Shopify, Ford, Canada Goose, Fast Company, PayPal, Scotiabank, Yellow Pages, and many more leading organizations. She is the author of the bestselling books Power Friending, and Outsmarting Your Kids Online. MacArthur is a regular business host and expert for Fast Company, Shopify, CNN, Bloomberg TV, CBS, BNN, The Marilyn Denis Show, and SiriusXM Radio and has more than two million social media followers.
Students from the First Nations Technical Institute (FNTI) located in Desoronto, Ont. receiving Canadore College credentials will also be in attendance.
Canadore College is very proud of its graduates for their accomplishments and for achieving their education goals. Each year, approximately 1,000 students graduate from the College, joining a network of 45,000 alumni working across the globe.
The ceremonies are being held at the College Drive Campus (100 College Drive, North Bay, Ont.) on June 15 at 10 a.m.
The remaining Convocation Ceremonies will take place on:
June 28, 10 a.m. – Aviation Technology; and Trades and Technology (Aviation Technology Campus, 55 Aviation Avenue, North Bay, Ont.)
Canadore's convocation ceremonies are also being live streamed and relayed on TVCOGECO North Bay on channel 12 and in HD on channel 700; web viewers can tune in at http://www.canadoretv.com.
Canadore trains people through applied learning, leadership and innovation. It provides access to over 65 full-time quality programs and has outstanding faculty and student services. The College and its students add nearly $290 million to the regions of Nipissing and Parry Sound. Approximately 1,000 students graduate from Canadore each year, and they join 45,000 alumni working across the globe.
For more information, please contact: Jessica Charette at 705.475.2538 or jessica.charette@canadorecollege.ca; Carrie Richmond at 705.474.7600, ext. 5216 or carrie.richmond@canadorecollege.ca
#Business #College Drive #Comm Justice #Culinary #Events #Experiential Learning #General #Indigenous Studies #Language and Prep #Media #Police Foundations #Programs #Sport and Rec #Student Life #Theatre
---
---