All Stories
Canadore College Pledges to Improve Literacy
Jun 14, 2016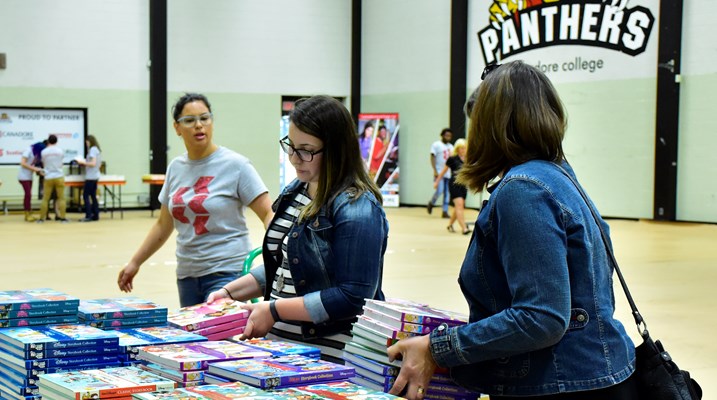 (NORTH BAY, ONT.) – Canadore College is working in partnership with First Books Canada to help improve regional literacy by giving away thousands of free books to children in North Bay and area.
The collaboration began between First Books and Canadore last year with a books on wheels event hosted at the West Parry Sound Campus. This year, both the WPS and College Drive campuses are organizing the book giveaways.
"We're excited about participating in this year's initiative," said Kim Devine, Canadore Students' Council student government coordinator. "If kids develop a love of reading at a young age, it also encourages a passion for lifelong learning, and Canadore is proud to be a part of that."
Between the campuses, nearly 15,000 free books are given away to children to start or augment their own personal reading libraries. More than 80 participants from 50 service organizations and schools registered for the chance to obtain books. Each registrant is eligible to take 150 books for distribution.
"We are thrilled to be partnering with Canadore College on this unique project to improve literacy with young children and youth in both the North Bay and Parry Sound areas," said Tom Best, executive director of First Book Canada. "It's so wonderful to know over 10,000 brand new books will be distributed to students in need all across the region just before summer holidays begin. The College, both its faculty and the students involved in this project, should take enormous pride in what they have achieved this week."
The College Drive Campus will be hosting their event on Wednesday, June 15 and the West Parry Sound Campus event will follow on Thursday, June 16. The book distribution is available to advanced registrants only. For more information, contact Kim Devine at 705.474.7600, ext. 5301 or Laura Peddie at 705.746.9222, ext. 7351.
Canadore trains people through applied learning, leadership and innovation. It provides access to over 65 full-time quality programs and has outstanding faculty and student services. The College and its students add nearly $290 million to the regions of Nipissing and Parry Sound. Approximately 1,000 students graduate from Canadore each year, and they join 43,000 alumni working across the globe.
---
---