All Stories
Canadore College Researching Integration of Culture as it Relates to Wellness
Apr 12, 2018 | Canadore College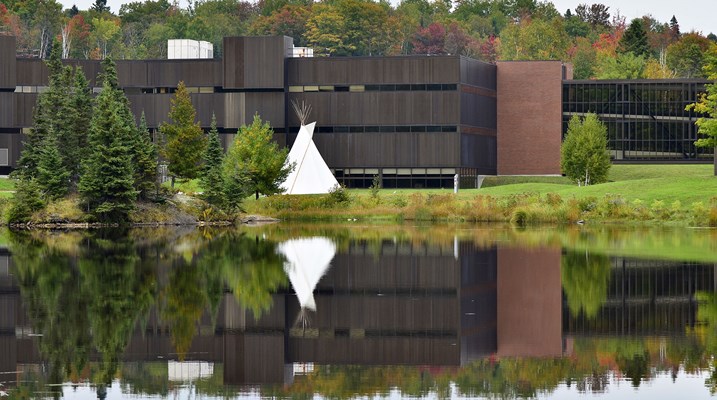 (NORTH BAY, ONT.) – Canadore College has received a $149,858 grant from the Canadian Institutes of Health Research (CIHR) to explore how Indigenous cultural continuity affects physical health, overall well-being and the likelihood of postsecondary success.
The one-year Cultural Continuity and Physical Health: Creating a Model of Resiliency Among Indigenous Post-Secondary Students and Their Families project ultimately aims at creating a model of resiliency among Indigenous postsecondary students and their families through the implementation of greater cultural continuity, which is traditionally defined as maintaining intact family structures and the engagement of elders to pass along traditions to subsequent generations. It can be further characterized to include knowledge of the land and environmental stewardship, traditional medicine, spirituality, traditional foods and activities and Indigenous languages.
"We are very excited about conducting this research," said Mary Wabano, director of the First Peoples' Centre and associate dean of Indigenous Studies at Canadore College. "While we know as Indigenous Peoples that our overall health is directly linked to honouring Indigenous knowledge and practicing our culture and traditions, it hasn't been formally measured, documented or celebrated."
The study will consist of a wide-range of participants of all ages, including Indigenous students and their families as well as elders and knowledge keepers from diverse First Nations from across Canada. Monthly cultural activities such as feasts, ceremonial practices, land-based healing, resource harvesting, will be offered on campus, which will allow for data collection. This method supports Nishnaabeg (Indigenous) theory, which states that research must be conducted within the context of participants' realities and respect the emotional, physical, spiritual and intellectual aspects of these individuals.
"Our beliefs are entrenched in respect and the validity of our findings is dependent on guaranteeing this principle in our research," said Wabano.
Keeping within this standard, data will be collected through conversation so that it reflects the community's beliefs, truths and knowledge. Narration methods can be very powerful because they are collaborative, relational, purposeful, reciprocal and decolonizing.
"Our research will have achieved the reclamation of Indigenous knowledges, provided concrete evidence of how communities and decision makers develop supports to create healthier Indigenous populations across Canada," said Wabano. "Canadore College is proud to play an active role in how Indigenous and non-Indigenous Canadians find their way forward in reconciliation."
Canadore College's Patty Chabbert and Mary Wabano are the project's principal applicant and knowledge user respectively. The research will be carried out in collaboration with the Aboriginal Sport and Wellness Council of Ontario, the Anishinabek Nation and Nipissing University's Dr. Brenda Bruner.
Canadore College is also completing another research project funded by the CIHR that utilizes culturally-relevant learning simulations through human participants to improve interprofessional collaboration amongst various healthcare providers with a particular focus on working with Indigenous populations living and coping with cancer.
Canadore College trains people through applied learning, leadership and innovation. It provides access to over 75 full-time quality programs and has outstanding faculty and success services to students from nearly 400 Canadian communities and 15 international countries. The College and its students add nearly $244 million to Nipissing Parry Sound Service Area economy. Approximately 1,000 students graduate from Canadore each year, and they join 44,000 alumni working across the globe. Canadore receives less than 50 per cent of its traditional funding from the provincial Ministry of Advanced Education and Skills Development and relies on its own innovation and entrepreneurial endeavours and generous donors for the balance.
For more information, please contact: Jessica Charette at 705.475.2538 or jessica.charette@canadorecollege.ca; Carrie Richmond at 705.474.7600, ext. 5216 or carrie.richmond@canadorecollege.ca
#Indigenous #Athletics, Rec, Wellness #Collaboration #First Peoples' Centre #Health, Human, Wellness #Indigenous Studies #New #Research #Sport and Rec #Student Life #Student Success Services
---
---