All Stories
Canadore College students continue the tradition of leadership
Dec 7, 2020 | Cindy Males, Public Relations and Communications Specialist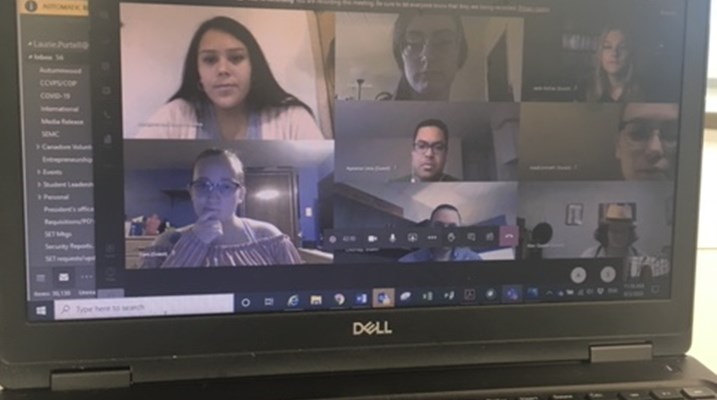 Canadore College students have always stepped up as leaders to address social issues locally, provincially, and globally, in a positive way, and this year is no exception.
"I see it as a great opportunity to develop some skills that I judge to be very important to me as a professional and as a person," said Apoena Lima, a second-year Business-Accounting student who came to Canadore from Brazil. "I also see a chance to connect to other people with the same purpose who are willing to develop the leadership skills together through the training, of course, but also through sharing experiences."
Apoena Lima is one of 10 students in the leadership team. The student leadership program, which began as WE Canadore, has transitioned to the Canadore-led program called iCanLead.
"I joined iCanLead because my goal is to improve my leadership skills, as well as make a difference within the student community," said Eleisha Collins, a second-year Business student. "This is my third year participating in the leadership team, and I am very excited."
Canadore College and the Canadore Students' Council began the peer-to-peer leadership development partnership four years ago to create a learning community focused on supporting leadership to address social justice issues in a positive way. The training empowers students with the skills, knowledge, and motivation to make positive changes in the community. Canadore student leaders typically volunteer for more than 1,100 hours every year in North Bay and surrounding areas.
"I'm happy to see that our student leadership team is as strong as ever, especially in our current reality brought on by COVID-19," said Canadore College President George Burton. "It is incumbent upon the College to produce socially conscious citizens as well as skilled workers."
In 2015, the United Nations launched a plan of action, Transforming our World: the 2030 Agenda for Sustainable Development, laying out 17 Sustainable Development Goals (SDG's) to end poverty and set the world on a path of peace, prosperity and opportunity. That agenda helps to guide the students in iCanLearn, and each student has their own reasons why they believe it is important to be a student leader.
"As an international student who came to Canada with family, I've experienced some issues that I'd love to help other students avoid," said Apoena Lima. "I am focusing on SDG #3 Good Health and Well-Being. I'd like to try to decrease their anxiety in their life transition."
"The social justice issue I am most looking forward to addressing is racism," said Eleisha Collins. "Racism is an ongoing issue around the world, as well as in the northern communities. Many people believe racism is non-existent in northern communities but it's a lot more common than you think. My goal is to educate individuals and the community."
For iCanLead member Makenna Stack, a first-year Respiratory Therapy program student, environmental issues top the list of social justice concerns.
"The social justice issue I am looking forward to addressing would be Life Below Water (SDG 14)! I am extremely passionate about the ocean and climate change."
"The most important characteristic in a leader is someone who is supportive and caring. Leaders are people who listen and are encouraging! I am looking forward to making connections with other members in the iCanLead program. They seem like kind, positive individuals."
Student leaders can be agents of change. The Sustainable Development Goals provide for the development of action plans over the next decade to end poverty and put the world on the path to sustainability. To learn more visit www.un.org/sustainabledevelopment.
---
---