All Stories
Canadore College Students launch #canadoreshinestogether campaign
Sep 5, 2020 | Cindy Males, Public Relations and Communications Specialist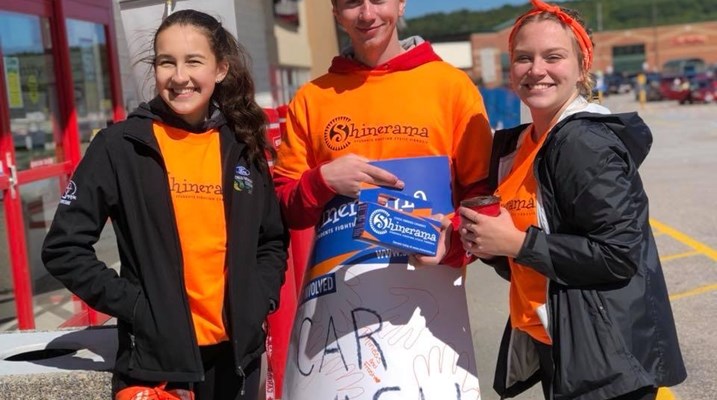 The Canadore Students' Council is not letting the COVID-19 pandemic stand in the way of raising money to fight Cystic Fibrosis. The CSC and The Canadore Shines Together Team are moving forward with Shinerama 2020, but they're moving it on-line.
"Despite the unforeseen times COVID-19 has brought upon our community, we believe it is still exceedingly important to support Shinerama and all the wonderful work it brings to Canadians living with CF," said Canadore Students' Council President Madison Irvine. "By doing our part, even though it is going to look a little different this year, we can still make a positive contribution to this amazing cause through #canadoreshinestogether."
"I'm happy to see that our students' council has remained committed to the Shinerama campaign, and adapted to the current realities brought on by COVID-19," said Canadore College President George Burton.
Cystic Fibrosis is an inherited disorder that causes severe damage to the lungs, digestive system, and other organs in the body.
CF is the most common fatal genetic disease affecting Canadian children and young adults. There is no cure.
Traditionally every September, during Frosh Week, Canadore Students set up stations at locations around North Bay to wash vehicles and raise money for CF research as well as awareness about the disease.
This year, like so many other traditions, Shinerama is going virtual. On Sunday, September 13, 2020 members of the community are invited to make a donation and post a photo of themselves, their friends, and their family washing a vehicle with the hashtag #canadoreshinestogether. All photos posted will be entered into a draw for some great prizes.
"We are part of a dynamic community here in North Bay. The people here are determined, resilient, and benevolent, even during these extremely difficult times of COVID-19," said Irvine. "Despite adversity, we continue to see our community supporting various movements, charities, and organizations."
"We believe that North Bay will continue to see the value and importance of supporting Canadians living with CF and are confident in the community to stand together to make a difference and support Shinerama," said Irvine.
If you would like to lend your support in Shinerama click the link below to get started: https://secure.e2rm.com/registrant/TeamFundraisingPage.aspx?teamID=923405#&panel1-3
---
---