All Stories
Canadore College takes another step towards environmental sustainability
May 16, 2022 | Cindy Males, Public Relations and Communications Specialist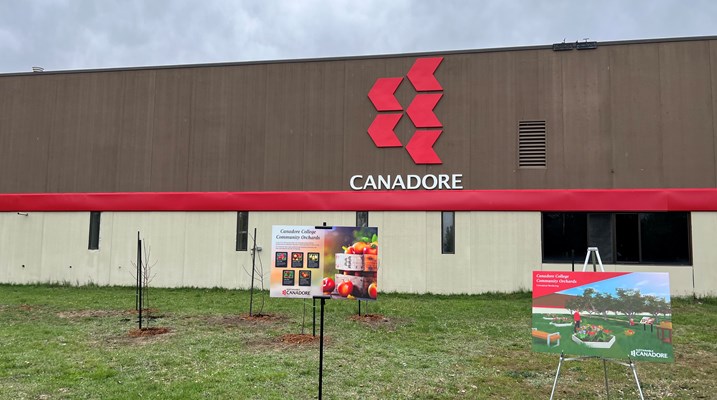 Canadore College's latest environmental sustainability initiative will not only add to North Bay's urban tree canopy, but it will actually bear fruit. The College is planting two orchards – one at its Commerce Court Campus, and the other at the College Drive lower residence.
"As part of our food security project, this community orchard will foster intergenerational collaboration and help to nourish and inspire for years to come," said Jesse Russell, Sustainable Development Project Leader. "This orchard has been made possible through community partnerships with Clean, Green, Beautiful North Bay and Trees for Nipissing."
Clean, Green, Beautiful North Bay began the orchard project in 2020 and, in collaboration with Trees for Nipissing, has already planted six orchards around the community including Canadore's groves.
"The Clean, Green, Beautiful committee is very grateful to Canadore College for its commitment to plant and maintain two orchards in our city," said Hariett Madigan, the organization's founder. "The apple, pear and plum trees will contribute to our urban canopy, provide fresh food for our community, create learning opportunities for students, beautify the chosen locations, and further Canadore's work towards sustainable practices."
In 2021, Canadore College committed to planting trees and other vegetation on its campuses to support a long-term view of food sovereignty and production for the community. The orchards are helping the College create living labs to increase student learning and applied research opportunities.
"Canadore is committed to ensuring that the incredible community that the College is located in is well cared for and enhanced for future generations," shared Shawn Chorney, Vice President, Strategic Infrastructure, Indigenous and Learner Services. "Our environment needs our constant attention to ensure that we help mitigate the effects of climate change."
In addition to the two on-campus orchards, Canadore is one of the partners supporting a third plantation located at the Nipissing Serenity Hospice.
"We would like to thank Canadore College for planting an orchard on our beautiful hospice property," said Bernadette Lindsay, Fund Development Coordinator. "The orchard will not only provide fresh fruit to residents and their families in the future, but it will also contribute to the serene atmosphere that we have created. Partnerships of this type are so important to the work we do, and the impact on the community that we serve is immeasurable."
"Canadore College is dedicated to exploring new ways to improve food security for our communities as part of our ongoing sustainable development efforts and applied research." said George Burton, President and CEO. "An initiative like this one supports that commitment, and moves us closer to our pledge to become carbon neutral by 2031."
#Collaboration #Commerce #Enviro and Biotech #Events #Experiential Learning #Office of the President #George Burton #Canadore College #President #North Bay #Vice President #Shawn Chorney #sustainability
---
---