All Stories
Canadore College Takes Gold and Silver in Aviation Competition
May 15, 2023 | Cindy Males, Public Relations and Communications Specialist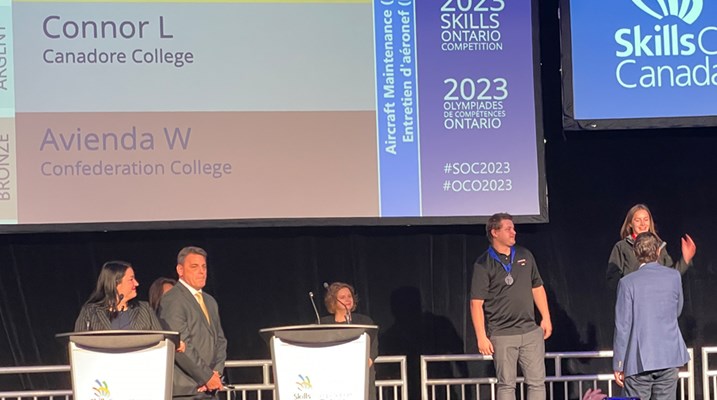 Canadore College students Emma Chilton and Connor Laroque, 2nd year Aircraft Maintenance, took gold and silver medals at a recent Skills Ontario competition. Chilton, from Bracebridge, Ontario, is the first female student from Canadore to be awarded a gold medal, and she says her experience at the Aviation Campus prepared her well.
"During the cylinder bore measurement exercise, the advantage of learning at Canadore became evident as I had done the job in my first and second years," said Chilton.
"The time spent learning at Canadore was instrumental in my succeeding at this event," said Laroque, who hails from Clayton, Ontario. "The hands-on experience paired with the individual attention given by the instructors to each student is unmatched by any other school in the province. Canadore's aviation program is well equipped with training aids in all aspects of the industry. This was helpful to have experience with a wide variety of equipment and feel comfortable with whatever challenge we were presented with."
Skills Ontario is a non-profit organization that promotes careers in skilled trades and technologies as viable, first-choice career options for young people. The annual contest is Canada's largest skills competition.
"Canadore College always fares well in the Skills Ontario competition," said President and CEO George Burton. "Our technical and trades programs teach the practical skills students need to become successful in their chosen careers. Congratulations to Emma and Connor, and thank you for representing Canadore so well."
"Employers want to hire graduates who are capable and ready to work when they are hired, and the best way to get them ready is through hands-on training," said Kori Ibey, Faculty, School of Aviation and Aerospace Technology. "I've been involved with Skills Ontario since 2015, and it's been an honour and privilege to mentor these students."
"Having the opportunity to compete for Canadore has prepared me for any situation that I may encounter in the field," said Chilton, who moves onto the national skills competition later this month in Winnipeg. "Canadore teaches hands-on and troubleshooting skills."
"We were not given details of the competition's activities ahead of time, making specific preparation impossible," said Laroque. "The confidence of being able to deal with unknown challenges that will arise while working in the industry will be valuable to my career success."
---
---