All Stories
Canadore College to Celebrate Members of 2017 Alumni Hall of Fame
Jun 2, 2017 | Canadore College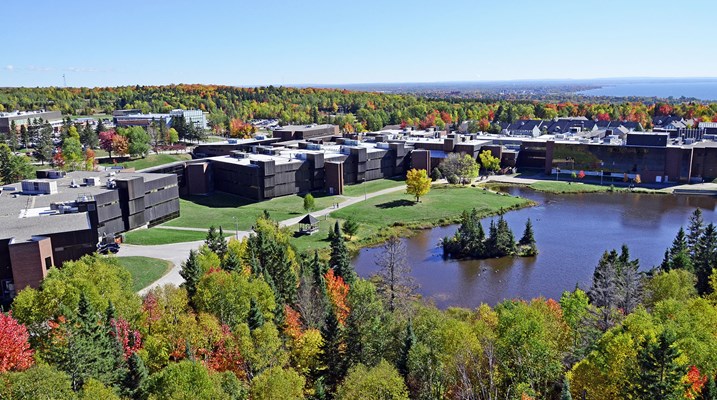 (NORTH BAY, ONT.) – This Saturday, Canadore College will celebrate the strong connections, shared history and traditions of its alumni at its annual Alumni Golf Tournament and Hall of Fame dinner.
"As we celebrate our 50th anniversary, the significance of this event is considerable," said Canadore College president and CEO, George Burton. "The college years can take on different meanings for different people, but we all create lifelong connections during this time."
Burton goes on to say that the Canadore alumni body brings invaluable social benefits to communities around the globe and notes that the College's graduates have contributed $240 million to the regional economy alone in higher wages and increased efficiencies and productivity.
The 2017 inductees are Adam Bembridge, Kelly Crawford, Glenn Cundari, Jim Eady, Dana Hauser, Susan Hay and Dr. Sharon Moore.
Adam Bembridge (Yellowknife, N.W.T.) – A licensed aircraft maintenance engineer and entrepreneur, Bembridge began his career as the second employee of Great Slave Helicopters (GSH) after graduating from Aircraft Maintenance. Following the purchase of GSH with a business partner, the company very quickly expanded from an 11 helicopter operation to one with 86 aircraft in regular use. Under his leadership, GSH has created 22 Aboriginal joint venture companies and its operations span across the United States as well as Chile, Peru and beyond. After selling GSH to Discovery Air, he held several key positions before retiring from industry for a short time. In 2016, Bembridge formed Acasta HeliFlight in partnership with Canadian Helicopters Inc. and the HNZ Group; the operation currently runs 12 aircraft. Bembridge has devoted his time and energy to causes like the Children's Wish Foundation and has been honoured with the Business Person of the Year Award from the North West Territories Chamber of Commerce.
Kelly Crawford (M'Chigeeng First Nation, Ont.) – Crawford is the Principal of Academics at Kenjgewin Teg Educational Institute (KTEI) and graduate of Canadore's Television & Video Production and Interactive Multimedia programs. A passionate educator and storyteller, Crawford is committed to eliminating cultural barriers by sharing knowledge and strengthening relationships between Indigenous and non-Indigenous people across Ontario. Highly-respected for her work in community engagement, cross-cultural training and First Nations treaty education, Crawford has authored We Are All Treaty People, Gdoo-Sastamoo Kii Mi, Understanding Our Nation to Nation Relationship: A Practical Teacher's Resource Guide. She holds a Master of Arts – Integrated Studies degree with a concentration in culture and education from Athabasca University, a Bachelor of Education from Nipissing University, a Bachelor of Arts (Honours) degree in Native Studies from Laurentian University and is a PhD candidate at Laurentian. She is the recipient of numerous awards, including the Anishinabek Nation Grand Council Chief Award and the 2016 Premier's Award for Community Services.
Glenn Cundari (North Bay, Ont.) – Graduate of the Business Administration program, Cundari is now the technical director for the PGA of Canada, with oversight into Canada's National Coach Certification Program (NCCP). He also fills the role of master learning facilitator for golf in Canada, responsible for the training and evaluation of thePGA facilitators who deliver coach training from coast to coast. Cundari is a member of the PGA World Alliance Education Committee and also does mission work in developing golf nations as part of the Royal and Ancient World Golf Development Committee. He was a member of the group that developed the international coaching framework on behalf of the International Golf Federation and the International Olympic Committee. His expertise in athlete and coaching development has led him to speak in 15 different countries around the world. This past year he was selected to attend the only international coach developer training in the world in Tokyo, Japan. He will be the 2017 Team Northern Ontario coach at the Special Olympics Ontario Summer Games to be held in Peel, Ont.
Jim Eady (Burlington, Ont.) - After graduating from Television Broadcasting, Eady went on to become a ten-time Emmy Award winner and the founder and CEO of Broadcast Services International Inc. (BSI). In addition to applying his technical expertise as co-owner and consultant to BSI's affiliates, he also provides support to RF Wireless Systems, Sure Connect International, and Broadcast Systems and Equipment. Eady has held a position with NBC Olympics as Senior On-Site Technical Manager since 1988, and a role as Director of Engineering for the Pan American Games 2015. A long-time Canadore College advisory board member, his commitment to the College has created opportunity for its students to work with BSI and has been instrumental in creating internships at several Olympics for learners across Canada. The BSI Summer Program allows students to gain hands-on experience working as freelancers with BSI after graduation. Eady is thankful for the knowledge he gained from his years at Canadore College, and is proud to support future graduates.
Susan Hay (Toronto, Ont.) – Graduate of the Executive Secretarial program, Hay is a veteran broadcaster and TV host who has been part of the Global Toronto family for more than 25 years, covering weather news, special events and hosting a variety of shows. She is the host of Making a Difference, a popular early evening news segment that profiles inspirational people and organizations throughout the GTA who are positively impacting the lives of others. Hay continues to dedicate her free time to working with many charitable organizations and is spokesperson for The Leukemia & Lymphoma Society of Canada, Reach for the Rainbow, and the Heart & Stroke Foundation of Ontario. She has visited Africa with World Vision to help children orphaned by AIDS, and recently travelled to El Salvador for charitable purposes. Hay has won numerous accolades, including the 2009 Rotary Youth Impact Lifetime Achievement Award, the 2009 Gemini Humanitarian Award, the 2007 Spirit of Giving Award from the Reach for the Rainbow, the 2004 Consumer Choice Woman of the Year Award, and the 2000 Outstanding Woman in her Field Award for In Celebration of Women. Locally, Hay was inducted into the North Bay Walk of Fame in 2012 by Mayor Al McDonald. Hay received an honourary diploma from Canadore College in communication arts in 1999 for her many other outstanding contributions.
Dana Hauser (San Diego, CA) – As the first female executive chef across the entire Fairmont brand, the Fairmont Grand Del Mar Executive Chef is a trailblazer whose career has taken her across Canada to Bermuda and now San Diego. In her new role at the No. 1 luxury hotel in the United States, Hauser is currently overseeing the re-concept of Amaya, the resort's signature all-day dining restaurant, combining Californian cuisine with Italian influences. She has created new menus for the entire 249-properties resort. A graduate of the culinary skills program, Hauser now serves on two of the College program advisory boards in order to give back to students and pave the way for future culinary professionals. Hauser is a member of Les Dames Escoffier and James Beard Foundation Travel.
Sharon L. Moore (Calgary, Alta.) – alumnae from the nursing program, Moore is a registered nurse and registered psychologist who has worked in the fields of health care and education for nearly 40 years. As a full professor in the Faculty of Health Disciplines at Athabasca University, she has her own program of research, which is collected on a global scale, in the area of hope and aging, and knowledge translation for the assessment and prevention of suicide in older adults. Moore has presented more than 150 papers, workshops and keynote addresses at conferences in Canada, the United States, Hawaii, Kenya, Uganda, Ireland, Denmark, Norway, Sweden, India and the Czech Republic. She has published dozens of peer reviewed articles and text book chapters focused on hope, aging, suicide as well as teaching and learning in distance education. Moore is the recipient of many awards, including the 2014 Nursing Excellence in Education Award from the Association of Registered Nurses of Alberta, the 2008 Canadian Institutes of Health Research Betty Havens Award for Knowledge Translation in Aging and the 1995 Excellence in Mental Health Award.
The Dean McCubbin Legacy Award -- awarded to an outstanding individual who has made a significant contribution to Canadore College by supporting the institution's foundational pillars: student success; program and service excellence; innovation; connection to community; and sustainability – was granted to retiring professor David de Jourdan. His recognition stands in acknowledgement of the qualities he shares with Dean McCubbin, the founder of Canadore's recreation leadership program, and former dean of student services, including leadership, mentorship, compassion and professional excellence.
The alumni hall of fame honoured inaugural inductees Wendy Abdallah, Ted Hargreaves, Elina Katsman, Michael Kenney, Charles MacDonald, Peter Rowntree, Dave Saad, and Jacques Seguin last year.
Approximately 130 golfers are taking part in the annual alumni and friends golf tournament at Osprey Links Golf Course and the annual hall of fame dinner will be served at the College Drive Campus.
Canadore trains people through applied learning, leadership and innovation. It provides access to over 75 full-time quality programs and has outstanding faculty and student services. The College and its students add nearly $290 million to the regions of Nipissing and Parry Sound. Approximately 1,000 students graduate from Canadore each year, and they join 44,000 alumni working across the globe.
For more information, please contact: Jessica Charette at 705.475.2538 or jessica.charette@canadorecollege.ca; Carrie Richmond at 705.474.7600, ext. 5216 or carrie.richmond@canadorecollege.ca
---
---