All Stories
Canadore College Unveils New Motive Power Lab
Nov 25, 2016 | Communications Department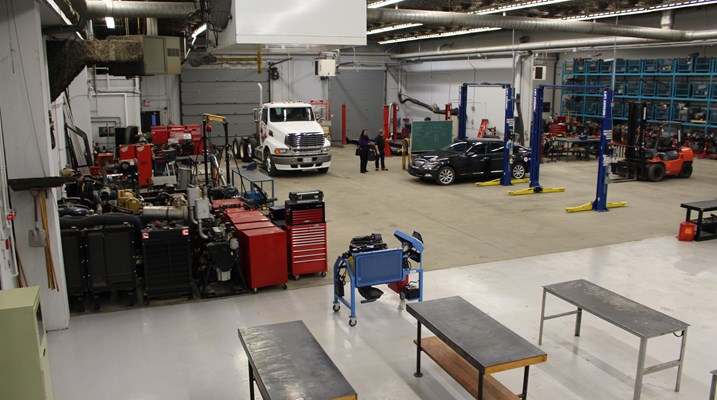 (NORTH BAY, ONT.) – Canadore College revealed its new motive power shop yesterday to members of its program advisory committee and industry supporters.
The lab has been under construction since the summer months and features double the square footage, increased flexibility for cross-functional learning and new instructional aids.
"This is very exciting for both our students and our faculty," said Mary O'Farrell-Bowers, vice-president of academic. "Not only do our skilled trades students and apprentices get to work in a brand-new space, but more importantly, they get to work on equipment that reflects current industry reality. The space also allows for faculty to employ innovative learning strategies not previously possible."
The new 16,000 sq. ft. open concept lab features increased shared shop space and provides more opportunity and flexibility for collaborative assignments between multiple programs, such as small-engine and automotive service technician apprenticeship programs.
O'Farrell-Bowers expressed how grateful the college is for the support of the Ministry of Advanced Education and Skills Development through their apprenticeship enhancement fund, as well as industry partners who provide ongoing support to the Canadore's programs.
"Compared to when I toured the shop a year ago there is now so much more room for activity," said Wade Moyer, first year motive power student. "I feel because it is a lot more open, students will have more access to professors which will keep them more on-track, allowing them to do the practical jobs quicker and more professionally."
About Canadore College's program advisory committees:
The Ministry of Advanced Education and Skills Development requires an advisory committee for each college program, or related program cluster, to ensure curriculum quality, student and graduate success. Committee members are an external selection of exceptional leaders in their fields with a diversity of program-related experience and expertise. Program advisors identify current and future industry trends and shifts in the skills and knowledge graduates need to meet employer requirements, which helps to ensure that programs are current and relevant to industry, business and society.

Canadore trains people through applied learning, leadership and innovation. It provides access to over 65 full-time quality programs and has outstanding faculty and student services. The College and its students add nearly $290 million to the regions of Nipissing and Parry Sound. Approximately 1,000 students graduate from Canadore each year, and they join 43,000 alumni working across the globe.
---
---