All Stories
Canadore College Unveils Panthers Fitness Facility
Jan 11, 2018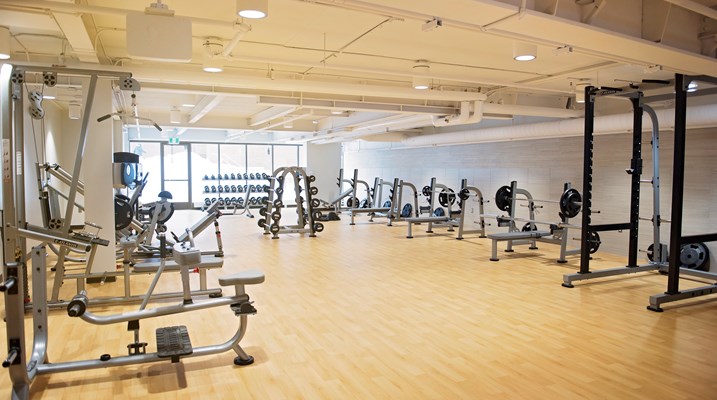 (NORTH BAY, ONT.) – Canadore College officially showcased its brand new athletics facility earlier today.
The long-awaited 4,000 sq. ft. facility features state-of-the-art equipment selected to support elite student athlete performance training as well as meeting the needs of users looking to generally improve their physical fitness levels.
"We have an impressive number of fitness-minded people on campus, including our athletes, our sport and recreation learners, and the wide-ranging student population," said Shawna Nielsen, director of student experience and success. "I have no doubt that the comprehensive nature and design of the Panthers facility will draw in even more users."
The fitness centre includes spacious change rooms and boasts hard-to-come by equipment such as the Stair Master 8 Series Gauntlet that allows users to climb well-known international landmarks like the Eiffel Tower, the Statue of Liberty and the Taj Mahal and the Octane ZR8000 Zero Runner, which is known in the industry as heralding a new way to train by allowing exercisers to complete the true running motion without stressful bodily impact.
The College has also introduced an additional all-gender washroom to be inclusive and supportive of transgender populations and people who exist outside of the gender binary.
"The space was deliberately designed with a mind to make everyone comfortable," said Nielsen. "We are also extremely pleased that our student leadership extended their welcome to include our employees, retirees and alumni in the fitness services and programming."
Canadore also announced that it will be launching the availability of life coach services for its student body, aimed at helping them to adopt a more balanced lifestyle. The initiative is rooted in supporting each individual to be empowered by making choices that uniquely align with their self-identified spiritual, emotional, physical and emotional priorities.
The Panthers Fitness Facility renovations totaled $1 million, with $550,000 having been donated by the Canadore Students' Council.
Canadore College trains people through applied learning, leadership and innovation. It provides access to over 75 full-time quality programs and has outstanding faculty and success services to students from nearly 400 Canadian communities and 15 international countries. The College and its students add nearly $244 million to Nipissing Parry Sound Service Area economy. Approximately 1,000 students graduate from Canadore each year, and they join 44,000 alumni working across the globe. Canadore receives less than 50 per cent of its traditional funding from the provincial Ministry of Advanced Education and Skills Development and relies on its own innovation and entrepreneurial endeavours and generous donors for the balance.
For more information, please contact: Jessica Charette at 705.475.2538 or jessica.charette@canadorecollege.ca; Carrie Richmond at 705.474.7600, ext. 5216 or carrie.richmond@canadorecollege.ca
#Athletics, Rec, Wellness #Canadore Students' Council #Collaboration #College Drive #New #Recruitment #Sport and Rec #Student Life #Student Success Services
---
---