All Stories
Canadore College welcomed the best in varsity women's volleyball
Mar 4, 2020 | Cindy Males, Public Relations and Communications Specialist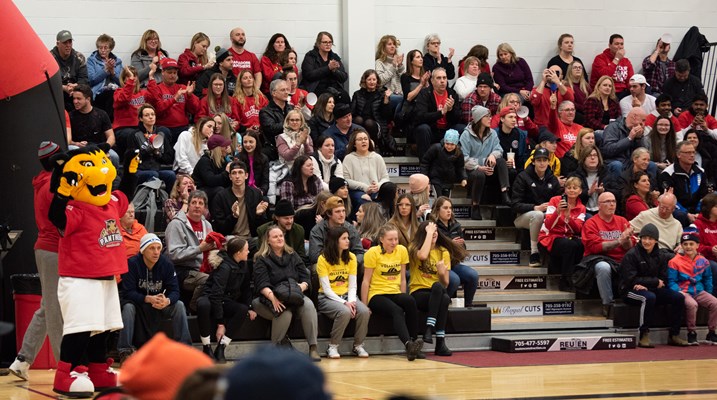 Teams from eight colleges across Ontario converged on Canadore College on Thursday to compete in the OCAA Women's Volleyball Championships, from February 27 to 29, 2020.
"We have a lot of really big national and international events for beach volleyball, but not for indoor volleyball. That's usually in Toronto or Mississauga, nowhere usually in the smaller areas of Ontario." said teammate Tianna Head.
"We have a pretty respectable volleyball program," said Head. "We have our two volleyball programs, NBYVC, the youth club with the Lakers, as well as the Vision club. They're feeding athletes into our program. Now we're here and it's in North Bay and it's at Canadore College, it's giving us a bigger name than we've had in the past."
The Ontario Colleges Athletic Association (OCAA) is the recognized leader in intercollegiate athletics in the province, dedicated to student-athlete and sports development. The OCAA has 27 members, sponsoring 12 varsity sports. It's been four years since Canadore hosted an OCAA women's volleyball championship.
"We were excited to host this event, which showcased the talent of Ontario's top collegiate women's volleyball players," said Shawna Nielsen, Canadore's Athletic Director. "It takes a tremendous amount of time and effort to achieve such a high standard of excellence."
The Panthers Women's Volleyball team placed third in the 2020 OCAA East Division, with a 15-3 record. While the team was 8-1 at home this season another win wasn't in the cards, as the Panthers lost to Humber in the OCAA Championship quarter finals.
"The team has every reason to be proud of their accomplishments this season" said Nielsen. "I am so proud of the team and all of their hard work over the past year."
The OCAA champion, Fanshawe Falcons move onto the Canadian Collegiate Athletic Association Women's Volleyball National Championship in Quebec City in March.
#Athletics, Rec, Wellness #Sport and Rec #Sport and Wellness
---
---