All Stories
Canadore College welcomes students back to in-person classes
Sep 8, 2022 | Cindy Males, Public Relations and Communications Specialist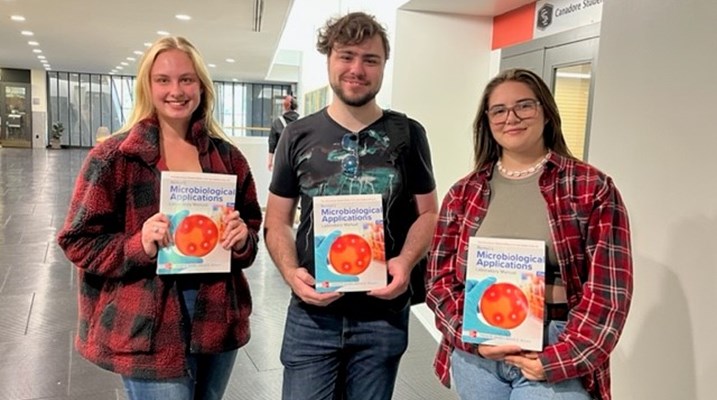 The energy and excitement at Canadore College is palpable as students and employees return to the College Drive, Aviation, Commerce Court and West Parry Sound campuses for the Fall 2022 semester.
"It didn't really feel like a full college experience last year because we were here alone," said Kaili Richmond, a second-year Environmental Technician – Protection and Compliance student from northern Ontario. "It was just our little group, so we got super close, which was perfect. But, seeing people on campus is super nice."
Richmond is excited to get started.
"I love all the outdoor stuff, all the hiking we do outdoors around campus, that's why I chose this campus because of the forest out back," she said.
Students are finding it easier getting around campus thanks to community volunteers who have been on hand to help them navigate the halls. This year, participants in The Village's programs for older adults were on hand to help students.
"I'm here four days a week," said Cheryl Holtzhausen, as she guided students around campus. This is something I can do for The Village, and for Canadore, because they are really good to us. They give us these wonderful programs."
"I think it's good for them (the students) to see that we're involved, and that we're not just seniors out there somewhere; we are a part of everything the same as they are. They've got new knowledge to share with us, and we've got old knowledge. We kind of work together," said Holtzhausen.
"Getting to see the campus alive is amazing because I know there are a lot of great opportunities for Canadore students here," said Jessica Crook, a second-year Environmental Technician – Protection and Compliance student from Kingston, Ontario.
Crook is the Vice-President of Student Life on the Canadore Students' Council, and she's looking forward to welcoming students back to class throughout the September frosh month.
"We get to do a lot more stuff connecting to students, and just creating a really great atmosphere for Canadore students. Having the gyms open and doing varsity sports again, and just allowing more people to meet new friends is really refreshing.
For more information on Canadore Welcome Month visit Canadorecollege.ca/welcomemonth
---
---