All Stories
Canadore College welcomes students to a new school year
Sep 10, 2021 | Cindy Males, Public Relations and Communications Specialist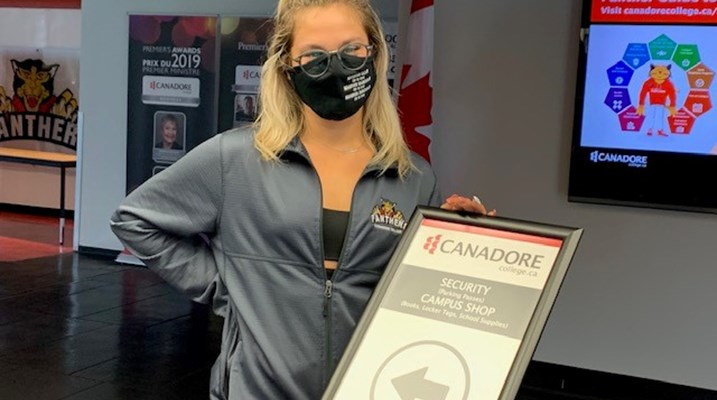 Jade Kollias was at Canadore's College Drive Campus this week to welcome students back to class for the start of the Fall 2021 semester. Kollias has just graduated from the two-year Business program, and she is returning to Canadore enrolled in Business Management. Kollias still remembers what it was like to experience the first-semester jitters, and she was happy to help students find their way.
"They're excited. They're scared. They look nervous because they don't know where everything is," said Kollias. "I was lost…but after you get into a rhythm, it's a lot easier than people think."
Quinton Lazary is a first-year Culinary Arts student, who is most looking forward to getting started and working in 100 Elements, the on-campus fine dining restaurant.
"I've wanted to do it since I was six," Lazary says. "I'm pretty excited."
This year begins the same way as last year ended, under COVID-19 restrictions. Program delivery is remote where possible, and a hybrid of remote and on-campus learning where necessary. Everyone – students, employees, visitors, and contractors - coming onto campus must pass a daily COVID-19 self-assessment and attest to their vaccination status. Facial coverings and physical distancing are still required. The College will continue to transition to normal operations as public health guidelines allow.
"Canadore has implemented a stringent vaccination policy and safety protocols for all on-campus activities," said Canadore College President and CEO George Burton. "The health and well-being of our students and employees remains our primary concern. We will continue to modify our approach based upon public health guidance. Our students and staff have been very diligent in adhering to our policies and protocols, protecting everyone."
"While the pandemic has required Canadore to adopt hybrid delivery models for programs and services our focus on student success has not wavered," said Burton.
Students say the protocols are helping to ease any safety concerns they may have around COVID-19.
"I feel very safe," says Practical Nursing student Holly-Ann Lazary. "Especially with the College making sure everyone is doing their COVID-19 screenings and all that – making sure everyone is good to go in the school. I feel very safe."
Lazary started her program in January, so she is accustomed to the safety restrictions. Still, she is happy to be back on campus.
"I'm a little nervous because it's still a lot of school work to do, but I think it will be fine," she said
Kollias, who is also the Canadore Students' Council Vice President Operations, knows what she is most eager to see return.
"More in-person events - just seeing people again," she said.
For more information on upcoming events, students are encouraged to visit https://www.canadorecollege.ca/canadore-students-council/welcomemonth
---
---