All Stories
Canadore Partnership Opening More Doors to Indigenous Education
May 24, 2018 | Canadore College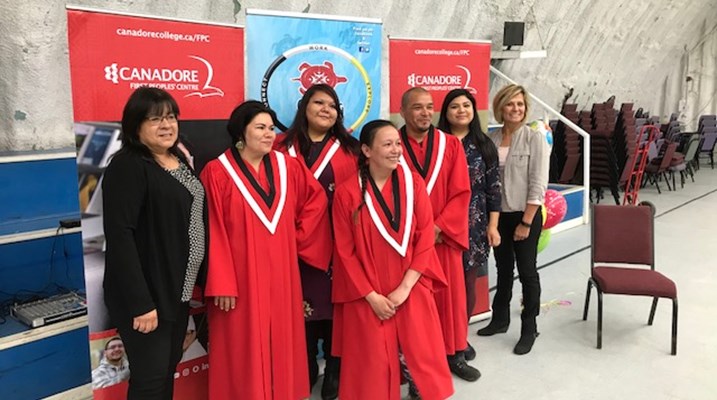 (SHAWANAGA FIRST NATION, ONT.) – Anishinabek learners from Shawanaga First Nation had the opportunity to explore higher education through a collaboration between Gezhtoojig Employment and Training and Canadore College.
Gezhtoojig and Canadore launched a 12-week 'Choose Your Path' training program aimed at providing participants with new skills to plan the next steps in their career development.
"The program came about after Gezhtoojig met with frontline workers from the various Highway 69 First Nations to discuss how to address barriers for those who want to participate in training, education, or entry into the workforce," said Sandra Martin, employment services officer at Gezhtoojig Employment and Training. "We then requested Canadore to provide the training in a community-based setting in Shawanaga First Nation, which we felt was the best way to engage participation in the program and so that participants could pursue their goals."
Four participants completed the customized pre-college training program which divided into cultural teachings, financial literacy, essential skills, employability skills and TOWES assessment modules.
"We couldn't be happier with this initial program intake," said Judy Manitowabi, Canadore College's manager of community-based and contract training within the First Peoples' Centre. "Of the four graduates, two have chosen to study full-time at Canadore in North Bay in September 2019."
Manitowabi credits this intention to further education to the campus visits planned within the 180 hour curriculum, during which time participants were able to meet faculty, see the learning spaces and meet the First Peoples' Centre team.
The completion ceremony took place in early May.
"At the graduation, we had one of the parents extend her gratitude for this type of training and she shared her excitement related to the changes she witnessed in her daughter," said Manitowabi. "Over the 12-week period, she indicated that her daughter exhibited more confidence in her academic skills and a keen interest in furthering her education at the college level."
The 'Choose Your Path' program supports the efforts of Canadore College's five-year Indigenous education and services strategy and the College's commitment to reconciliation.
Canadore trains people through applied learning, leadership and innovation. It provides access to over 75 full-time quality programs and has outstanding faculty and student services. Nearly 20 percent of Canadore's total student population is of Ojibway, Oji-Cree, Cree Algonquin, Mohawk, Inuit or Métis decent from Ontario, Québec and nation-wide, one of the highest representations in the provincial college system. The College and its students add nearly $244 million to Nipissing Parry Sound Service Area economy. Approximately 1,000 students graduate from Canadore each year, and they join 44,000 alumni working across the globe. Canadore receives less than 50 per cent of its traditional funding from the provincial Ministry of Advanced Education and Skills Development and relies on its own innovation and entrepreneurial endeavours and generous donors for the balance.
For more information, please contact: Jessica Charette at 705.475.2538 or jessica.charette@canadorecollege.ca; Carrie Richmond at 705.474.7600, ext. 5216 or carrie.richmond@canadorecollege.ca
#Aboriginal #Admissions #Collaboration #College Drive #Credit Transfer Pathways #Experiential Learning #First Peoples' Centre #General #Indigenous Studies #New #Profile #Program Development #Recruitment #Student Life
---
---