All Stories
Canadore's Continuing Education Department receives eCampusontario funding
Aug 28, 2020 | Cindy Males, Public Relations and Communications Specialist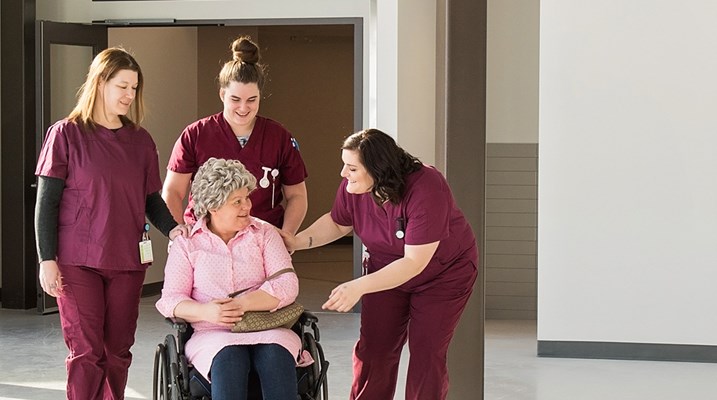 Canadore College's Continuing Education Department is working to expand micro-credential activity in Ontario. The department is receiving $15,000 from an eCampusOntario pilot program to develop a new online course titled "Professional Practice in Caregiving".
"This is one of the many ways Canadore College is helping to address ongoing needs in many industries across Ontario," said Canadore President George Burton.
Canadore's partners in the project are Spark LifeCare, an Ottawa based organization that connects caregivers and clients, and Spark University, a non-profit, volunteer-led community that develops and provides courses and certification for caregivers.
This pilot project was made possible through direct funding and support from eCampusOntario. eCampusOntario is funded by the Government of Ontario. It is a non-profit organization that leads provincial colleges and universities to develop and test online learning tools.
Canadore College's partnership with Spark was formed as a result of critical issues being identified in the caregiving industry including the lack of formal training available for those in caregiving roles at home or in their communities, and recognition of the need for caregiving in other areas such as mental health, addictions, and personal support work.
"COVID-19 has revealed an immediate need for additional support in the health care field in both the province and across the country," said Deidre Bannerman, Director of Canadore's Academic Centre of Excellence. "This specialized training will provide the necessary skills, knowledge, and attitudes to individuals working with the most vulnerable members of our community."
"Caregivers are those who work for companies like Spark, but they are also our neighbours, friends, and family. There is no better time to prove to those we care about that caring for our communities is essential," said Bannerman.
Canadore and Spark are collaborating on the development of a specialized certificate to address the identified gaps and produce caregivers who are equipped to provide proper, professional care to a diverse clientele. Every aspect of this in-progress certificate program is vetted by Spark officials who work in the industry. So far, more 150 Spark employees and external learners have completed the first course. Spark employees range from entry-level caregivers to doctors. External learners include family and friend support systems. In all, five courses are being planned, and all will be offered through Continuing Education at Canadore College.
Eventually the certificate built by the Canadore College-Spark collaboration will provide a pathway into the Personal Support Worker Program to be offered online through Canadore's Continuing Education in the near future.
For more information:
Canadore College Continuing Education: ce@canadorecollege.ca
Spark LifeCare: https://sparkcares.ca/
Spark University: https://sparku.ca/
#Admissions #Collaboration #College Drive #Continuing Education #Health, Human, Wellness #New #Program Development
---
---