All Stories
Canadore's Recruitment and Liaison Team Staying Connected
Apr 15, 2020 | Cindy Males, Public Relations and Communications Specialist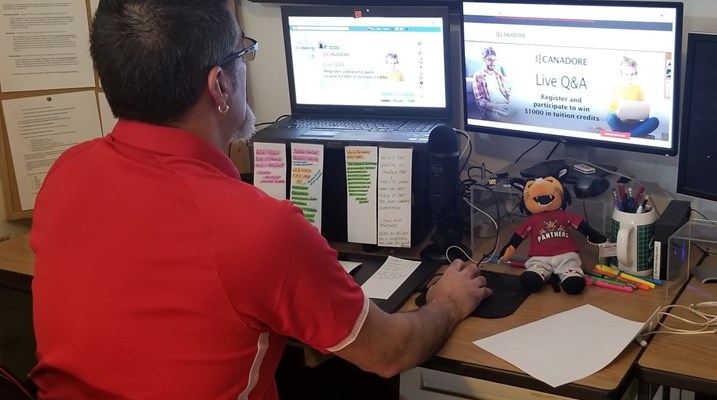 Recruitment and Liaison Officer Ric Potvin has hosted live Question and Answer sessions with prospective and current students.
The COVID-19 pandemic is not stopping Canadore's Recruitment and Liaison team from reaching out to new and prospective students. They have simply moved online and the response has been good with nearly 100 registrants and more than 50 viewers during each of the two online sessions to date.
"It's been worthwhile, as we have been able to answer questions and connect students to faculty and student services," said Recruitment and Liaison Coordinator Jesse Russell.
New students are asking about residence, bursaries and student services. Current and International students have been asking questions relating to the impact of COVID-19 on their studies.
The online recruitment efforts will now be directed towards one-on-one sessions via Skype or WebEX. The intent of the sessions will be to engage prospective students personally and include faculty from interested areas, where possible. Students can register at www.canadorecollege.ca.
The first $1,000 incentive prize for registering for the online session has been awarded to a student in the Mechanical Techniques-Plumbing Program for Fall 2020. It was offered to new students to register and participate in a Q&A session. A similar incentive is being offered for the one-on-one sessions, as well.
---
---