All Stories
Canadore student leaders spotlight homelessness and addictions
Mar 28, 2022 | Cindy Males, Public Relations and Communications Specialist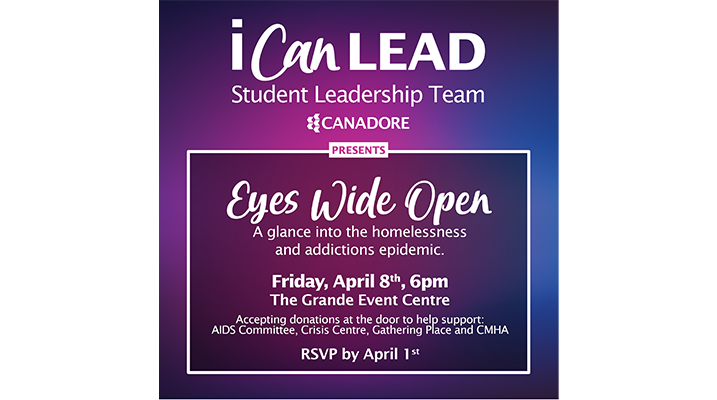 As members of the Canadore Students' Council, Samantha St Pierre and Noah Landry focus on advocating for students on and off campus. They are also members of iCanLead, the College's student leadership program that brings together students from different cultures and empowers them to become better local and regional citizens. In that capacity, their latest initiative has a community-wide focus. They will be hosting Eyes Wide Open: A glance into the homelessness and addictions epidemic at 6 pm on Friday, April 8th at The Grande Event Centre.
"I have someone in my family who has lived through hell because of their addiction. They found themselves in a really low place and even spent time in correctional facilities," said St Pierre. "Homelessness and addiction run rampant in our city, and Noah and I wanted to take this chance to educate North Bay and help people understand the truth behind the issues."
Eyes Wide Open will be an interactive panel discussion with people who work on the front lines with homeless and drug-dependent individuals in North Bay every day.
"Each panelist will speak about their own experiences. The audience will have the opportunity at the end to ask questions," said St Pierre.
"We have seen the horrendous things posted on social media about the people in North Bay who face homelessness and addictions every day," said Landry. "We think there is a lack of education in our city. We really want this event to spark some compassion and support. If we can change just one person's mind on the topic, I think we have done our job successfully."
The event is free to the public. Cash donations will be accepted to support community organizations that help those dealing with addictions and homelessness including AIDS Committee of North Bay and Area, Crisis Centre North Bay, The Gathering Place, and Canadian Mental Health Association.
Food will be available free of charge at the event. Anyone wishing to attend must register by Friday, April 1, here to secure a spot. Walk-ins cannot be accommodated.
---
---