All Stories
Canadore College President George Burton reaches out to federal election candidates
Sep 14, 2021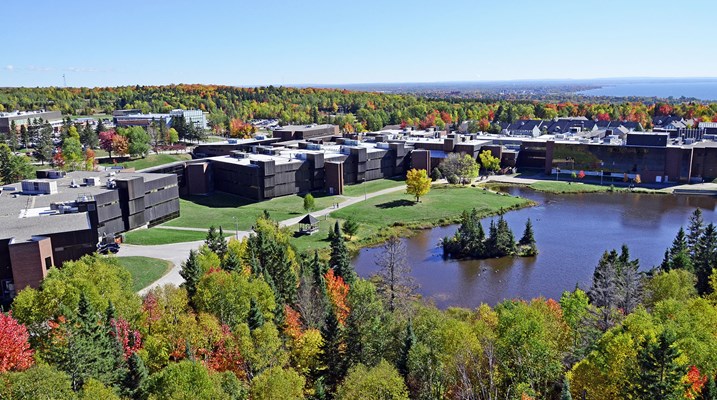 Please note this is the text of an email sent to the federal election candidates in Nipissing-Timiskaming and Parry Sound-Muskoka from Canadore College President and CEO George Burton.
Dear Scott Aitchison, Greg Galante, Heather Hay, Marc Mantha, Jovanie Nicoyishakiye, Scott Robertson, Anthony Rota, Steven Trahan, Jim Tole
In this period of social and economic transition, colleges hold the key to a more prosperous and inclusive Canada.
Colleges in Ontario, specifically, provide employment-ready analytic skills and hands-on training for 500,000 students each year.
Our institutions provide creative solutions to ensure our graduates have the specialized skills employers need. We work in every sector of the economy, and are central to economic recovery in a post-pandemic world.
As your campaign enters its final stages, I would like to take this opportunity to share some insight from our sector, and Canadore College specifically.
Canadore College is leading the way to provide trained people to fill the gap of skilled workers in Ontario, Canada and around the world. There are three Canadore campuses in North Bay - College Drive, Aviation and Commerce Court – and one in Parry Sound. Canadore trains people through applied learning, leadership, innovation and industry-driven research. It provides access to more than 80 full-time quality programs, outstanding faculty, and success support services to students from nearly 400 Canadian communities and 15 international countries. Approximately 1,000 students graduate from Canadore each year, and they join more than 48,000 alumni working across the globe. The College, its students, and alumni account for $369 million in the Nipissing-Parry Sound service area economy. Canadore receives less than 50 per cent of its traditional funding from the province and relies on its own innovation and entrepreneurial endeavours and generous donors for the balance.
Overall, there are opportunities for the federal government to take a national leadership role to support Canadians through investments in the college sector. The election is a good time to highlight requests the post-secondary sector advocates for through Colleges Ontario:
Multi-year equipment investments totaling $1 billion into Technology Access Centres to boost small business innovation towards the levels needed for Canada to become an innovation powerhouse;
The federal government should increase the College and Community Innovation program by $75 million a year;
Multi-year grants totaling $1.4 billion to assist colleges' transition to digital economies. Commitments to increase digitization will boost our technical/trades training capacity by increasing online access to college programs to support virtual learning and work;
The federal government should invest $5 billion in colleges as exemplars for carbon zero facilities. Funding for zero carbon programs will empower our institutions to mobilize our students, industry and community partners to ramp up efforts towards Canada's net zero goals;
Investments of $250 million will help post-secondary institutions improve their facilities; and
The federal government should implement permanent residence streams for international students at colleges.
These recommendations align well with the priorities of Canadore College.
Many small- and medium-sized businesses do not have the resources to do the practical research that is essential to their innovation and improved productivity. Canadore College operates the Innovation Centre for Advanced Manufacturing and Prototyping (ICAMP). The not-for-profit facility provides access to technology and services to meet a wide range of needs from equipment training, to full research and development, to project execution. Increased federal government investment in this area would allow ICAMP to create even more applied research partnerships between business, industry and the College to drive innovation and create new products and services in the north.
Colleges like Canadore must continue to invest in state-of-the-art equipment to ensure graduates are at the forefront of innovations and technological advancements. For instance, The Village, located at our College Drive Campus in North Bay, is an exceptional health and wellness facility offering a groundbreaking approach to educating the next generation of Canada's health professionals. The first of its kind in Canada, The Village blends Indigenous, Eastern and Western practices with student-run clinics that provide healthcare services to the community. Phase 2 of The Village – a seniors living facility – will offer intergenerational learning opportunities. The complex will provide assisted living, respite care, transitional beds, and affordable housing. Federal investments in industry state-of-the-art equipment for facilities like The Village will support essential work-integrated learning and ensure Canada has a strong workforce that leads the world in economic growth.
To address the skills shortage facing employers, the college system must be equipped with the digital infrastructure to support anytime/anywhere learning. The pandemic has fast-tracked the digital shift for learning and work. To effectively train the next generation, colleges must be equipped to fulfil hands-on training requirements in technical and trades courses through online simulation as well as virtual and augmented reality. Federal investment in digitization would assist colleges to provide digital support services for student success, and create shared online resources for technical/trades programs for a collaborative platform.
Federal funding for carbon zero facilities would encourage more colleges to replace natural gas heating and cooling with alternatives. Canadore College has pledged to be carbon neutral by 2031, and is working towards that goal. We are now closely monitoring our energy, water usage, electricity, heating and cooling costs with an eye to reducing our greenhouse gas emissions. Faculty and students will use the data the College is collecting in their teaching and learning throughout the school year.
In conclusion, Ontario colleges are asking the federal government to consider investment in a number of areas. There can be no doubt that COVID-19 has touched every business, industry and occupation. We will need to re-think, re-tool, and re-skill if we are going to produce graduates who are job-ready at the end of their college education in the fast-changing post-pandemic world.
Sincerely,
George Burton
President and CEO
Canadore College
---
---