All Stories
College's Post-Production Facility Receives Dolby Atmos Capabilities
Jul 6, 2017 | Canadore College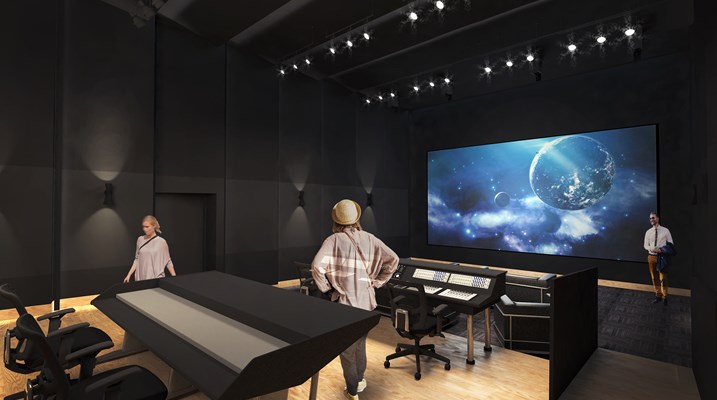 (NORTH BAY, ONT.) – Canadore College's new post-production facility will be the first college in Canada equipped with Dolby Atmos for re-recording mixing and playback.
Dolby Atmos is an award-winning technology that breathes life into storytelling by allowing the creative freedom to easily place and move sounds anywhere in the cinema, including overhead, to make audiences feel as if they are inside the movie.
"Combined with our new post-production program running this fall, the Dolby Atmos enabled studio will provide students with tools that give them the creative freedom to create mixes that are more immersive and life-like," said Yura Monestime, associate dean of media, design and dramatic arts. "The unique blend of applied and experiential learning opportunities will enrich the entire learning process and is unique in Canada."
The 2,500 square-foot facility will feature a specialized post-production theatre featuring Dolby Atmos sound mixing capabilities, recording, dialogue replacement, and studio grade color correction capabilities along with office space and a 24-seat computer lab. The studio will be used regularly in academic programming and is also available to industry for the final steps of film creation prior to production release.
"Educating student filmmakers on the Dolby Atmos production tools is not only essential in paving the way to robust sounding mixes but also shows them the importance of how a great sound experience impacts storytelling," said Jed Harmsen, senior director, Cinema Products, Dolby Laboratories. "Dolby Atmos has been embraced by all the major Hollywood studios and industry-leading filmmakers and we are excited to see Canadore College take this step in shaping the skills and minds of future filmmakers."
The film industry brings millions of dollars in revenue to northern Ontario economies through services such as accommodation, security, transportation, catering and equipment rentals.
"Every $1 million of film and television production generates 21 full-time direct and associated jobs," said Monestime. "We are training the next wave of film crews on top-of-the line industry equipment under the guidance and mentorship of industry experts. Our grads know how to hit the ground running."
This week, Venasse Construction began on the build of new Canadore College post-production centre. With anticipated completion in Fall 2017, the facility will address both immediate and growing needs of northern Ontario's film industry and will be home to the College's brand new post-production graduate certificate, with only nine seats remaining for the inaugural intake in September.
About Dolby Atmos
Dolby Atmos delivers moving audio — sound that can be precisely placed and moved anywhere in three-dimensional space, including overhead. It brings entertainment alive all around the audience in a powerfully immersive and emotive experience. To learn more about Dolby Atmos, visit www.dolby.com/Atmos.
Canadore trains people through applied learning, leadership and innovation. It provides access to over 75 full-time quality programs and has outstanding faculty and student services. The College and its students add nearly $290 million to the regions of Nipissing and Parry Sound. Approximately 1,000 students graduate from Canadore each year, and they join 44,000 alumni working across the globe.
For more information, please contact: Jessica Charette at 705.475.2538 or jessica.charette@canadorecollege.ca; Carrie Richmond at 705.474.7600, ext. 5216 or carrie.richmond@canadorecollege.ca
#College Drive #Experiential Learning #Film #General #Media #New #Programs #Recruitment
---
---