All Stories
Congratulations West Parry Sound Canadore Graduates!
Aug 23, 2017 | Jessica Charette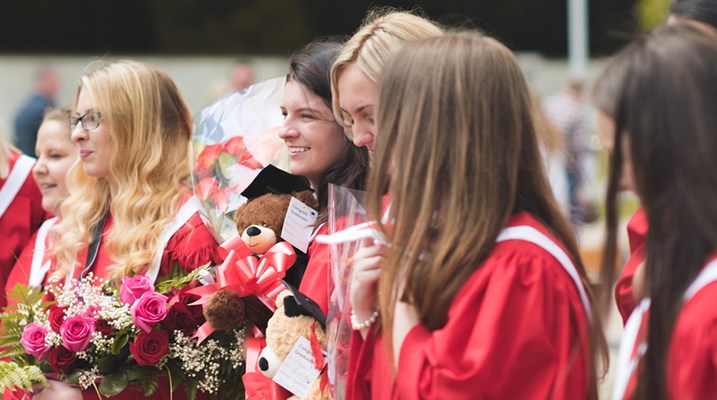 (PARRY SOUND, ONT.) -- Canadore is hosting its Convocation Ceremonies for its West Parry Sound Campus tomorrow.
Guest speaker Kami Johnson, acting director of nursing and personal care at Lakeland Long Term Care, will be addressing ecotourism, personal support worker and practical nursing graduates and their families.
Johnson is renowned for her passion in facilitating and delivering the best possible care for the residents at Lakeland. She strongly believes in the provision of person-centred care and the importance of empowering leadership in all levels of the organization, especially on the front line of healthcare. Johnson is a registered nurse graduate from Conestoga College. She has since completed her administrator's certification and was the recipient of the 2012 Ontario Long Term Care Association (OLTCA) Nursing Leadership Award.
Date: Thursday, August 24, 2017
Time: 10 a.m.
Location: Charles W. Stockey Centre for the Performing Arts, 2 Bay Street, Parry Sound, Ont.
Canadore College trains people through applied learning, leadership and innovation. It provides access to over 75 full-time quality programs and has outstanding faculty and student services. The College and its students add nearly $290 million to the regions of Nipissing and Parry Sound. Approximately 1,000 students graduate from Canadore each year, and they join 44,000 alumni working across the globe.
For more information, please contact: Jessica Charette at 705.475.2538 or jessica.charette@canadorecollege.ca; Carrie Richmond at 705.474.7600, ext. 5216 or carrie.richmond@canadorecollege.ca
#Events #Health, Human, Wellness #Parry Sound #Sport and Rec
---
---