All Stories
Connecting students with future employers
Feb 10, 2020 | Cindy Males, Public Relations and Communications Specialist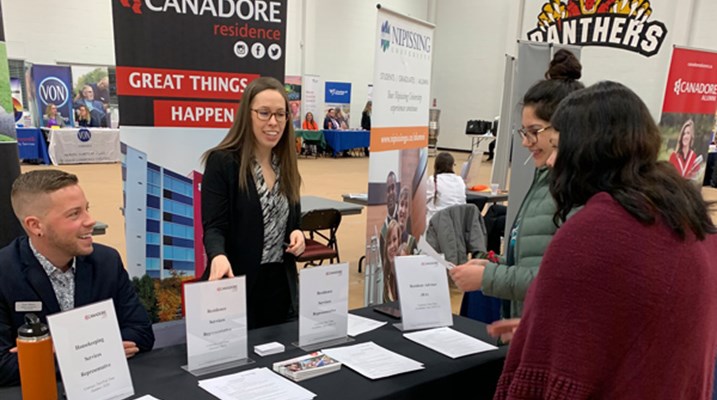 Canadore College prepares people for meaningful careers. And the annual job fair puts them in touch with employers to move them closer to that goal.
"The idea behind the job fair is to give employers, students, and alumni an opportunity to connect, in one location," says Ryan Drouin, manager of Canadore's Centre for Career Development. "It allows students and alumni to see the jobs that are available, and speak with employers in person. It also gives employers an opportunity to meet qualified applicants."
This year's fair was held on Thursday, February 6, 2020, in the College Drive Gymnasium and at the Aviation Campus. Sixty-five businesses were on hand. That's up from 30 in 2019.
"We are thrilled with the turn-out," says Drouin. "We try to focus on employers that are directly connected to our program offerings. We had a cross-section of employers from Aviation, Health Care, Trades, environmental and business sectors across the region and the province."
Many of the employers on hand this year say they like to meet Canadore students because the college prepares them well, with the right skill sets, so they can start to work immediately.
"They do," says July Lalonde, owner of Crossroads Restaurant in Rosseau Ontario. "Very strong culinary, very personable. They always present themselves well."
Some students get jobs before they graduate. Kendall Karoglan, of Home Instead Senior Care, came to the job fair looking for Personal Support Workers and Nurses.
"We like to give the students the opportunity to work with us, after first-year nursing, or we can hire PSWs before they've graduated," says Karoglan. "They can work as home helpers, so meal preparation, housekeeping, laundry, and transportation. Within their first few months, they learn those basic skills and when they graduate they are fully certified PSWs, so they're able to service our clients all across the spectrum."
That's welcome news to Alanna Beckerton, a student in the Personal Supporter Worker Program.
"When I was looking online for job opportunities for future reference, it seemed a lot of it was either casual or part-time," says Beckerton. "But from meeting with everyone here, it's opened my eyes that there is potential for full-time work and more security."
The employers say it's well worth the effort to spend a day at Canadore College and recruit new employees.
"We've had a lot of success in the past," says Julie Lalonde.
Another job fair is planned for Parry Sound on Tuesday, February 11, 2020.
---
---