All Stories
Ministers tour construction site of Northern Ontario's new Addiction Treatment Centre
Nov 7, 2023 | Cindy Males, Public Relations and Communications Specialist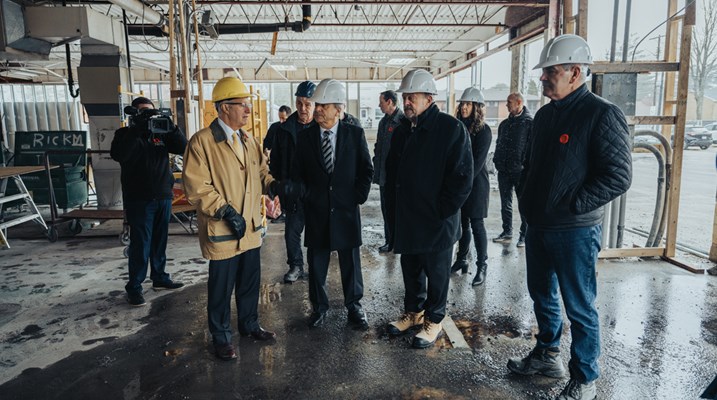 The construction of the Northern Ontario Addiction Treatment Centre of Excellence is proceeding. Ontario's Minister of Economic Development, Job Creation, and Trade, and Nipissing MPP Vic Fedeli, toured the site today with Associate Minister of Mental Health and Addictions, Michael Tibollo.
"Our government recognizes there are mental health and addictions challenges in our community," said Vic Fedeli. "The provincial investment of $6.8 million, through Canadore College, will increase access to support services for those dealing with addiction and provide an opportunity for growth."
"Canadore College's new treatment centre will be a crucial asset in our government's plan to rebuild and modernize the mental health and addictions system," said Michael Tibollo, Associate Minister of Mental Health, and Addictions. "By adding these 53 new beds, we are not only increasing treatment capacity, but are building a resource that will help train generations of medical professionals across Northern Ontario to deliver the highest quality mental health and addictions care. We will continue to invest in critical health human resources to ensure that everyone in this province, no matter where they are, can access the care they need, when and where they need it."
The Centre is a 53-bed addiction treatment centre that will provide residential withdrawal management, treatment, and supportive treatment beds.
"The treatment centre's mission is to offer our clients a therapeutic holistic addiction treatment program, including personal wellness," said Wendy Prieur, Director of the Northern Ontario Addiction Treatment Centre of Excellence. "Our continuum of care begins pre-treatment and lasts beyond our clients' stay, all of which assists in the recovery journey."
In addition to residential addiction treatment and therapeutic services, there will be 24/7 nursing care, on-site primary care, and mental health supports. The comprehensive range of services will be tailored to specific client needs and will evolve as those needs change. The centralized in-house intake process will enable the Centre to track clients referred for admission. This will significantly decrease the number of clients being stranded within the healthcare system and reduce wait times.
The intake and assessment process will determine the level of service each client will require. Upon admission, the client will be assessed again by an attending physician to determine medical treatment needs to support recovery and the attending physician will collaborate with the treatment centre staff to ensure optimal care is provided.
"It is well known that treatment and support work best when they are delivered close to home. The Northern Ontario Addiction Treatment Centre of Excellence will address this truth while at the same time reducing wait times in emergency departments and hospitals across the North," said Canadore College President and CEO George Burton.
#Corporate Communications #Health, Human, Wellness #Office of the President #North Bay
---
---