All Stories
New supports available to help Canadore College's international students be successful
May 26, 2022 | Cindy Males, Public Relations and Communications Specialist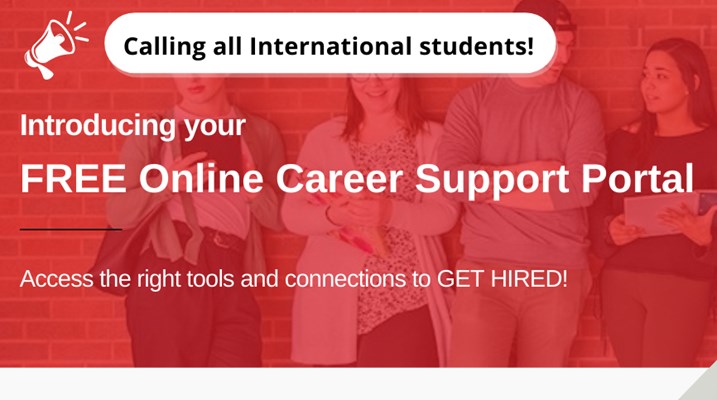 Canadore College has officially joined with Devant, a company dedicated to helping international students stay, work, and succeed in Canada. The partnership means more support, resources, and tools for students studying at Canadore from around the world.
Canadore College international students will have access to the free online career support portal. They can log on for information, tools, and connections to engage with employers in Canada, and get themselves hired.
This is in addition to supports already offered by Canadore's International Department and Centre for Career Development. For example, Devant offers a 'Get-Hired Masterclass' which introduces international students to the Canadian workplace, and how to access specialized advice on designing resumes for the Canadian marketplace. It also guides students on how to better showcase their experiences and soft skills to employers, and finalize their Canadian workplace-focused 'elevator pitch', a short summary of what they have to offer.
"Our international student colleagues seek meaningful employment outcomes following their time at Canadore College", said Dr. Aamir Taiyeb, Canadore's Director, International. "While the College prepares international students for academic success, it must also play a role in setting them up for a successful transition to the labour market."
"Our collaboration with Devant will allow Canadore international students access to a wider suite of employment and career supports specifically designed with their unique needs in mind. Partnering with Devant bolsters Canadore's existing suite of international student services," said Taiyeb.
"This partnership will help international students connect and network with employers. It also has a variety of industry information and advice to be successful in job hunting and landing a job," said international student Mauricio Yoiti Ishizaki, who is completing the Computer Systems Networking Technician program.
Devant's leadership team says the platform will engage students and give them access to a knowledge base developed by career coaches and career experts.
"Devant is an interactive platform that up-levels students' skills and confidence to help prepare them for the workforce," said Shannon Blanchfield, Devant's Marketing and Communications Associate. "By partnering with Devant, Canadore's students will have more career opportunities, a better understanding of the Canadian work culture and more confidence in their abilities overall, ultimately setting them up for future success."
"We are excited to offer our international learners additional support to navigate the Canadian job market," said Ryan Drouin, Canadore's Manager of Career Development, Sport and Wellness. "The Devant platform will offer our students access to a busy schedule of weekly live evening events in addition to industry-specific webinars, Q&As and networking opportunities. This platform will help our international students be prepared for career success in Canada."
For more information visit https://canadore.devant.ca/
---
---