All Stories
North Bay Film Festival to Screen Student Film Showcase
Nov 15, 2018 | Canadore College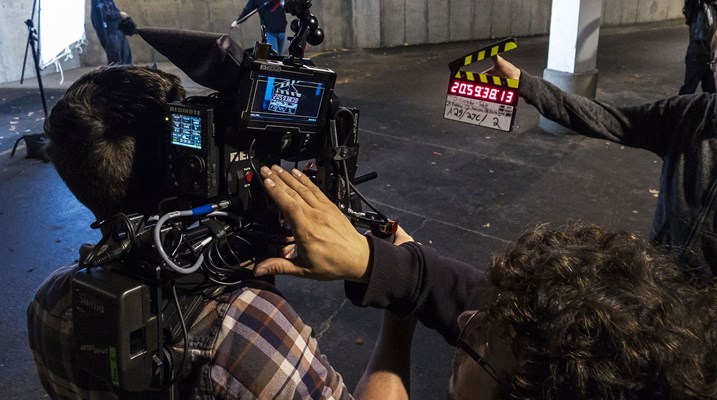 (NORTH BAY, ONT.) – Seventeen student short films and one Canadore professor's feature film will be screened at the annual North Bay Film Festival (NBFF) this weekend.
As a part of regular program delivery in the digital cinematography program, students are tasked with creating creative content over the three years of their study. The following fourteen comedy, drama, documentary, mockumentary and experimental shorts will screen as a 2-hour block during the Canadore Student Film Showcase on Friday. Four other Canadore student films, Shark, Seeing Sound and The Tri-town Ski and Snowboard Village will open for feature films throughout the festival.
Chungo, Comedy Short by Tyler Watson
He's an inter-dimensional weirdo and he's coming for you.
Closing Time, Comedy Short by Rain Tae
Time travel has its complications.
Sinner, Short Drama by Ben Faria
A street fighter grapples with the inner demon that defines him.
Lou, Short Documentary by Morningstar Derosier
What love for animals can teach us about living.
Pure Bliss, Short Drama by Ky Bryski
Bliss both giveth, and taketh away.
Known Associates, Comedy/Mockumentary Short by Lauren Bennie
The Known Associates believe they are one of the best bands in North Bay.
Comorbid, Drama/Experimental Short by Catherine Orr
A slick fashion film about a young man searching for artistic meaning.
Post-Script, Short Drama by Eric Robillard and the 3rd year digital cinematography class
A writer attempts to describe what makes love work.
How to Tell Rachel I Love Her, Short Comedy by Maxime Lauzon
Lucas realizes today is the day he needs he needs to tell her.
I am BOBBY, Short Documentary by Sydney Lee
What can make-up do for defining an identity?
Premonition, Short Comedy by Matt McNeil
Martin J Smith has a full life ahead of him.
Flood Blow, Short Comedy by Matt Close and the 3rd year digital cinematography class
A miracle drug that stops the bleeding gets used for nefarious purposes.
Chip, Short Comedy by Jordan Hewitt
Should Chip listen to the voice in his head? Steve thinks so.
Daze of Dreams, Short Comedy by Aaron Martini and the 3rd year digital cinematography class
Dylan is a day-dreamer who, through the help of his girl-crush, finds a way to stop them from becoming real.
Also screening is the new made-in-northern Ontario feature film, Angelique's Isle, produced by Canadore College digital cinematography professor, Dave Clement. This multi-million dollar production is about a young couple stranded for the winter of 1845 on a remote island on Lake Superior. Co-directed by Thunder Bay's Michelle Derosier and Montreal's Marie-Hélène Cousineau, the film recently won 'best film' and two best actor awards in San Francisco at the American Indian Film Festival. It will screen on Friday night.
Event: Canadore College Student Showcase
Date: Friday, November 16
Time: 1 – 2:30 p.m.
Location: Capitol Centre, 150 Main Street East, North Bay, Ont.
Event: Angelique's Isle Screening
Date: Friday, November 16
Time: 9:30 – 11 p.m.
Location: Capitol Centre, 150 Main Street East, North Bay, Ont.
The NBFF features international, Canadian and northern Ontario-made films paired with panel discussions, receptions, workshops and industry events. A full schedule of events, and tickets are available here -- http://www.northbayfilmfestival.ca/tickets/.
Canadore College trains people through applied learning, leadership and innovation. It provides access to over 75 full-time quality programs and has outstanding faculty and provides success services to students from nearly 400 Canadian communities and 15 international countries. The College and its students add nearly $244 million to Nipissing Parry Sound Service Area economy. Approximately 1,000 students graduate from Canadore each year, and they join 45,000 alumni working across the globe. Canadore receives less than 50 per cent of its traditional funding from the provincial Ministry of Training, Colleges and Universities and relies on its own innovation and entrepreneurial endeavors and generous donors for the balance.
For more information, please contact: Jessica Charette at 705.475.2538 or jessica.charette@canadorecollege.ca; Carrie Richmond at 705.474.7600, ext. 5216 or carrie.richmond@canadorecollege.ca
#Aboriginal #Collaboration #Events #Experiential Learning #Film #General #Media #New #Profile #Programs
---
---