All Stories
Ontario colleges committed to strengthening programs for Indigenous students
Mar 7, 2018 | Canadore College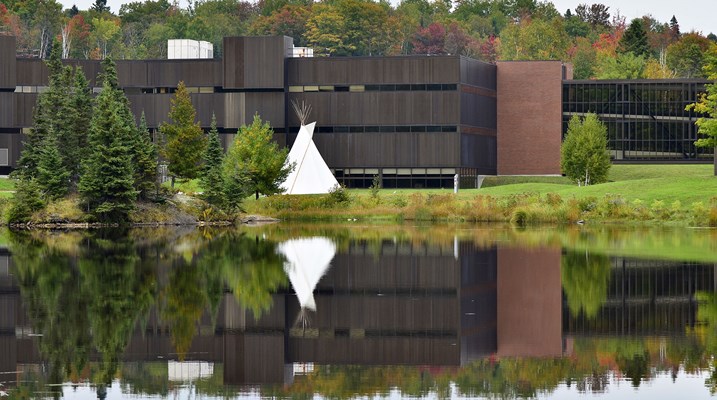 (NORTH BAY, ONT.) -- Every college in Ontario is incorporating Indigenous knowledge into its programs and services, says a new report to the provincial government on the colleges' response to the Truth and Reconciliation Commission.
"The college system is taking an important step to helping more Indigenous students to successfully acquire a postsecondary education," said George Burton, president and CEO of Canadore College. "Providing more opportunities will build greater empowerment and self-determination in Indigenous communities, families and individuals."
The report says it will take years to fully develop policies and programs through engagement with Indigenous communities and stakeholders.
Canadore College has been delivering meaningful Indigenous education for over 30 years. In 2016, the college launched its five year Indigenous education and services strategy to prioritize its efforts and map them against other organizational strategic goals.
The strategy was developed in partnership with industry, community and government, and commits to continuing to provide cultural competency leadership in seven principle areas: making Indigenous education a priority; building relationships and be accountable to Indigenous communities in support of self-determination through education, training and established research; increasing the number of Indigenous employees with ongoing appointments; creating and maintaining Indigenous-centred holistic services and learning for student success; increasing understanding reciprocity of Indigenous and non-Indigenous people; reflecting Indigenous knowledge and traditions in curriculum and learning approaches; and striking a governance structure respectful of Indigenous people.
Canadore College is partner to seven of Ontario's Aboriginal Institutes, including being a signatory to the province's first principles-based agreement and is home to Ontario's only accredited Indigenous addictions and Aboriginal fixed wing flight programs, as well as a credentialing body to Ontario's unique Early Childhood Education – Anishinaabemowin program.
Nearly 30 percent of Canadore's total student population is of Ojibway, Oji-Cree, Cree Algonquin, Mohawk, Inuit or Métis cultural heritage from Ontario, Québec and nation-wide, one of the highest representations in the provincial college system.
Provincially, there are more than 10,000 Indigenous students enrolled in Ontario's colleges. The report to government, Addressing Truth and Reconciliation: Summary report of Ontario's colleges, describes the findings of a 2017 survey of colleges on the programs and supports available to those students.
Other highlights from the survey include:
Each college acknowledges an Indigenous education council advisory group to guide student programming and services.
All colleges are supporting student success through initiatives such as dedicated campus spaces for Indigenous students, cultural activities, workshops and more.
All 24 colleges have a dedicated counsellor for Indigenous students.
More than 90 per cent of colleges have incorporated Indigenous ceremonial practices such as smudging ceremonies and powwows into campus life.
Most colleges have implemented courses and learning modules specifically devoted to Indigenous issues.
About 60 per cent of colleges have developed stand-alone education strategies or plans in collaboration with their Indigenous communities.
The college system will be releasing an annual report on their progress.
As provincial plans continue to develop, Canadore is the lead college among the six northern colleges piloting an Indigenous Quality Assurance Framework, a first in Ontario. Envisioned by Indigenous leaders and knowledge holders, the standards reflect and respond to the worldviews, educational needs and priorities of diverse northern Ontario Indigenous peoples.
Canadore College trains people through applied learning, leadership and innovation. It provides access to over 75 full-time quality programs and has outstanding faculty and success services to students from nearly 400 Canadian communities and 15 international countries. The College and its students add nearly $244 million to Nipissing Parry Sound Service Area economy. Approximately 1,000 students graduate from Canadore each year, and they join 44,000 alumni working across the globe. Canadore receives less than 50 per cent of its traditional funding from the provincial Ministry of Advanced Education and Skills Development and relies on its own innovation and entrepreneurial endeavours and generous donors for the balance.
For more information, please contact: Jessica Charette at 705.475.2538 or jessica.charette@canadorecollege.ca; Carrie Richmond at 705.474.7600, ext. 5216 or carrie.richmond@canadorecollege.ca
#Aboriginal #Canadore Students' Council #Collaboration #College Drive #Commerce #First Peoples' Centre #General #Office of the President #Parry Sound #Profile #Research #Student Life #Student Success Services
---
---