All Stories
Ontario Helping Prepare People for Good Jobs in North Bay
Feb 4, 2020 | Cindy Males, Public Relations and Communications Specialist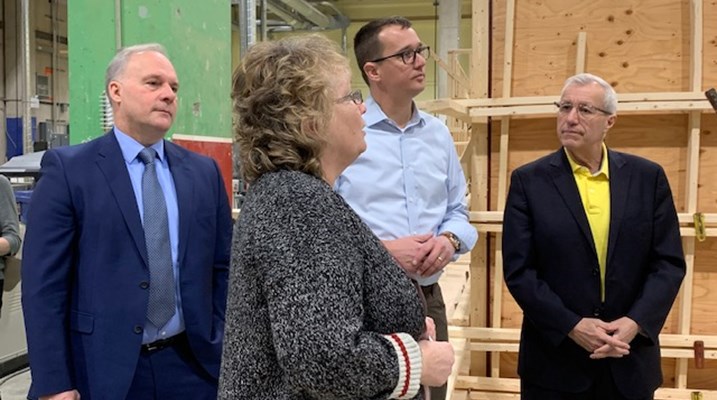 Ontario is delivering on its commitment to prepare people for good jobs in northeastern Ontario by funding three local training programs.
The Government is investing $600,000 to help train 63 North Bay workers for local high-demand careers including personal support workers, machine operators, general carpenters and electricians, Monte McNaughton, Minister of Labour, Training and Skills Development, announced today.
"In North Bay and throughout the Northeast Ontario Economic Region, more than 7,700 jobs go unfilled every day," said Minister McNaughton. "Those are paycheques waiting to be collected. But the workers aren't there. My mission is to fix this problem, in part by providing funding for more people to prepare for these exciting, fulfilling careers. Today's announcement is a good next step."
The funding will support:
16 pre-apprenticeship trainees for general carpenter and electrical trades at Canadore College.
17 machine operator trainees for the local manufacturing sector through an Ontario SkillsAdvance Partnership between Canadore College, Yes Employment Services Inc. and eight local employers.
30 personal support workers for the local health-care sector through an Ontario SkillsAdvance Partnership between Canadore College, District of Nipissing Social Services Administration Board and local employers.
"These funds will help people in this city and region - including young people, Indigenous people and women - find careers in industries where they are badly needed," Minister McNaughton said at Canadore College's Commerce Court Campus.
The announcement comes amid a government marketing campaign highlighting the skilled trades as a viable career path. The ads, which use the slogan 'Find a Career You Wouldn't Trade,' are currently running online, in movie theatres and on Tim Hortons TV.
"Careers in the trades are exciting, fulfilling and often very lucrative," said Vic Fedeli, Nipissing MPP and Minister for Economic Development, Job Creation and Trade. "We need to let young people know they are a viable first career choice. This is especially crucial as Ontario faces the looming problem of our existing skilled tradespeople retiring faster than we can replace them."
QUOTES
"It is wonderful that the government works in partnership with the colleges to provide pre-apprenticeship and apprenticeship training. We know that there is a shortage of skilled labour in the province of Ontario, and our joint efforts will close this gap, as we continue to invest in students and infrastructure."
"Ontario's investments in apprenticeship training at colleges are an essential part of the effort to produce a more highly qualified workforce. We're pleased to work with Minister McNaughton and the government to promote the great careers in the skilled trades."
Linda Franklin, President and CEO of Colleges Ontario
"Skills Advance Ontario is a powerful initiative that brings government, education, service providers and employers together to address skills gaps that exist at a local level. Yes Employment Services is proud to partner with Canadore College to offer the machine operator program. This program will meet the needs of our local manufacturing sector while providing individuals with skills needed to access long-term, sustainable employment in an in-demand sector."
LeeAnne Maille, CEO, Yes Employment Services
QUICK FACTS
Ontario is making a historic investment of $20.8 million into its Pre-Apprenticeship Program this year, an increase of $5 million from the previous year, to help introduce and provide free pre-trades training to over 1,800 people. Training is delivered by Ontario colleges, private career colleges, union and non-union training centres and other community organizations.
Ontario also recently announced $12.7 million in funding for the Ontario Youth Apprenticeship Program, aimed at encouraging more high school students to consider the skilled trades as a viable career.
To find out about pre-apprenticeship training programs, contact Employment Ontario by phone, e-mail or live chat.
On May 29, 2019, Ontario passed the Modernizing the Skilled Trades and Apprenticeship Act, 2019 to help transform the skilled trades and apprenticeship system, reduce red tape, and make Ontario open for business and open for jobs.
ADDITIONAL RESOURCES
Find a career you wouldn't trade
Skilled trades and apprenticeship system changes
-30-
MEDIA CONTACTS

Bradley Metlin
Minister's Office
Bradley.Metlin@ontario.ca

Janet Deline

Communications Branch

MLTSDmedialine@ontario.ca

ontario.ca/labour-news

Disponible en français
#Aviation and Aerospace #Commerce #Continuing Education #Corporate Communications #Employer Services #Events #Program Development #Trades and Tech #News #George Burton #Canadore College #President #North Bay
---
---