All Stories
Ottawa Aviation Services Coming to Town
Sep 27, 2017 | Canadore College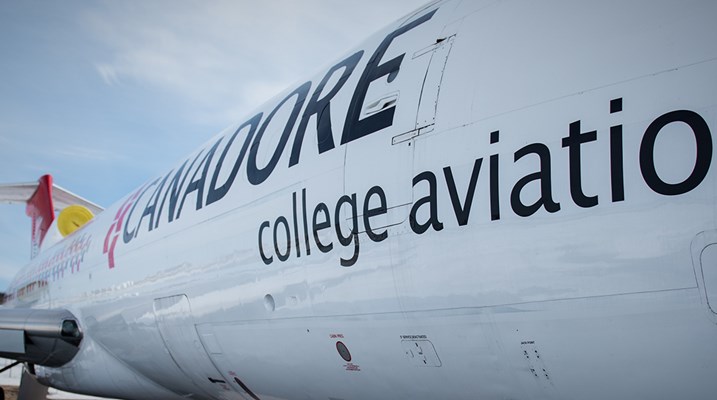 (NORTH BAY, ONT.) – Today, Canadore College and Essential Helicopters announced a partnership with Ontario-based Ottawa Aviation Services Flight Centre Inc. (OAS) to dramatically improve career opportunities.
OAS will provide the flight training program of the two-year Canadore/Essential commercial fixed wing pilot program by delivering its Canadian Integrated Airline Transport License (iATPL) program.
"The iATPL program is extraordinary news for our graduates because it establishes a direct career path with well-respected airlines," said Elaine Ross from Essential Helicopters. "Having career trajectories with industry woven right within curriculum delivery is a win-win situation for everyone involved."
OAS has established industry partnerships with Air Georgian, Jazz Aviation LP, Porter Airlines and Transwest Air, and the list continues to grow.
The Transport Canada approved program, trains pilots in the skills and proficiency necessary to operate as co-pilot on multi-crew, multi-engine airplanes in commercial air transportation.
Graduates from the iATPL program will benefit from earning an interview with one of OAS's domestic airline partners, have already completed ratings associated with working in the airline industry and are given the advanced standing to write Airline Transport Pilot exams prior to graduation.
Students registered for the Fall 2017 intake of the fixed wing pilot program will be transitioned into the iATPL program.
About Canadore College
Canadore College trains people through applied learning, leadership and innovation. It provides access to over 75 full-time quality programs and has outstanding faculty and success services to students from nearly 400 Canadian communities and 15 international countries. The College and its students add nearly $244 million to Nipissing Parry Sound Service Area economy. Approximately 1,000 students graduate from Canadore each year, and they join 44,000 alumni working across the globe. Canadore receives less than 50 per cent of its traditional funding from the provincial Ministry of Advanced Education and Skills Development and relies on its own innovation and entrepreneurial endeavours and generous donors for the balance.
About Essential Helicopters
Essential Helicopters is an approved Transport Canada flight training school and charter company located in North Bay. Essential Helicopters offers a variety of helicopter services, including flight training, charter and maintenance. Its partnership with Canadore College provides a one-of-a-kind Canadian college pilot preparedness certificate program in commercial helicopter pilot training.
About Ottawa Aviation Services
OAS has been offering flight training, maintenance and other aviation services for more than 15 years. OAS Flight Training division provides professional pilot trainees with efficient training to type rating. OAS Flight Training division provides efficient, high quality professional pilot training with the vision to offer an aviation job for every graduate.
www.ottawaaviationservices.com
For more information, please contact: Jessica Charette at 705.475.2538 or jessica.charette@canadorecollege.ca; Elaine Ross 705.476.3626 or info@essentialhelicopters.ca
#Aviation and Aerospace #Collaboration #Experiential Learning #General #New #Programs
---
---