All Stories
Student leaders at Canadore College sign onto United Nations Accord
May 26, 2023 | Cindy Males, Public Relations and Communications Specialist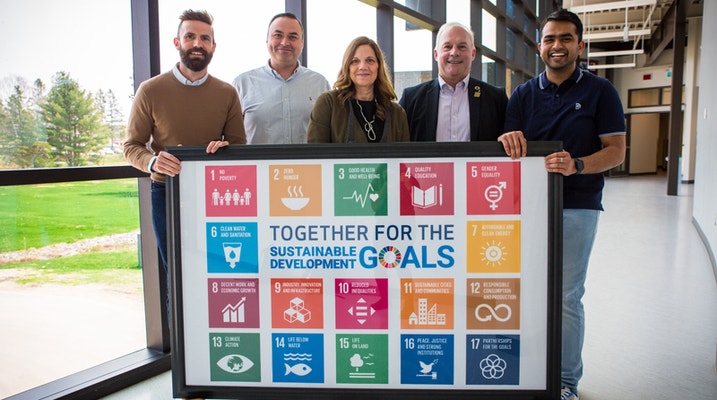 The Canadore Students' Council (CSC) has signed onto the United Nations Sustainable Development Accord, in support of the UN's 17 Sustainable Development Goals (SDGs). That means CSC has committed to embedding the SDGs in its activities on campus and in the community. Canadore College became a signatory in the winter of 2022.
"I think it's a great way to begin to achieve all the sustainable goals to save our planet," said Alex Mathew, CSC President. "As a student, and as a leader, it is my duty and responsibility to work towards the SDGs for a better future for generations to come. I'm really happy to be part of this initiative, and I thank Canadore College for taking such a step towards saving our planet Earth."
In 2015, the United Nations General Assembly set 17 goals aimed at ending poverty and setting the world on a path of peace, prosperity, and opportunity by 2030. Canadore College is on a path to being carbon neutral by 2031. CSC has been collaborating on special initiatives with Sustainable Canadore over the last year (www.canadorecollege.ca/sustainable-canadore). Members of the iCan Lead team, Canadore's leadership program that empowers students to become better local and regional citizens, were given an assignment to develop an action plan that would address sustainability issues and contribute to Canadore's carbon neutrality.
"We felt it was important to encourage our student leaders to take the lead by signing the SDG Accord on their own in support of Canadore," said Lise Paxton, Student Government Coordinator. "They can inspire their fellow students and the college community to do more to address the SDGs and promote the value of the goals within this community and in society in general."
Canadore College believes post-secondary institutions play a vital role in the communities they serve, and it is leading by example when it comes to sustainability.
"I commend CSC for taking this important step," said Jesse Russell, Sustainable Development Project Lead. "It not only helps to ensure that the current student government supports the SDGs but will help to ensure that subsequent governments are also accountable. Together, we can help to build a more sustainable college community for years to come."
---
---