All Stories
The Village Receives $300K Investment from Student Council
Apr 20, 2018 | Canadore College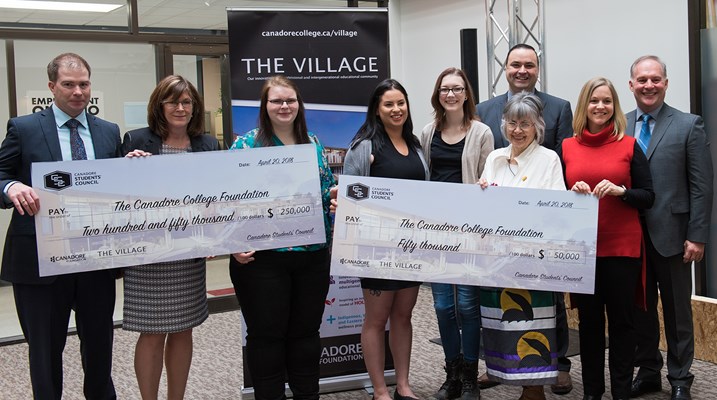 (NORTH BAY, ONT.) – Today, Canadore College celebrated a $300,000 donation to The Village's capital campaign from the Canadore Students' Council.
"It's very easy for our student council to invest in The Village project because we believe in our college and we see how they are investing in us every single day," said Robin Chokomolin, president of CSC currently studying in the Indigenous wellness and addictions program. "Looking at The Village in particular, it is a place where people come together to learn about caring for each other, but in bold and unique ways through meshing traditions. Our communities need this, and it feels amazing to be a part of it in some way."
CSC has requested that $250,000 be directed to naming The Village's roundhouse, one of the dedicated spaces within the complex where Elders and Knowledge Keepers will help students explore and celebrate Indigenous Peoples, histories, languages and customs through sacred fire, cultural food, Indigenous harvesting and preparation, and cultural arts. Of the balance, $25,000 is earmarked to match the TD Bank donation for Indigenous student awards, and the other $25,000 is in support of first generation students and learners working through mental health struggles.
"We honestly can't thank student council enough for demonstrating their confidence in us through this generous donation," said George Burton, president and CEO of Canadore College. "We are all fortunate indeed to have these leaders who are about to join the workforce – leaders who stand behind their values and pledge their commitment to collaborating for something bigger and better for our communities and generations to come."
The Village concept by Canadore College is the only model of its kind in Canada, focused on collaborative interprofessional education and the integration of Indigenous, Eastern and Western healing and wellness practices. The centre will integrate seniors' and community care, with teaching, experiential skills training and applied research provided by North Bay, Ontario's Canadore College -- all in one facility.
The facility's construction and technology is valued at $20 million in total. In the past two months, Canadore has already announced donations of $1.3 million to add to the $5.63 million from the federal government and $800,000 from the province. The overall fundraising campaign goal is $5 million from non-government sources.
To learn more about The Village and the different ways to give to the capital campaign, contact the Canadore Foundation by contacting Brad Gavan at 705.840.3473 or brad.gavan@canadorecollege.ca.
Canadore College trains people through applied learning, leadership and innovation. It provides access to over 75 full-time quality programs and has outstanding faculty and success services to students from nearly 400 Canadian communities and 15 international countries. The College and its students add nearly $244 million to Nipissing Parry Sound Service Area economy. Approximately 1,000 students graduate from Canadore each year, and they join 44,000 alumni working across the globe. Canadore receives less than 50 per cent of its traditional funding from the provincial Ministry of Advanced Education and Skills Development and relies on its own innovation and entrepreneurial endeavours and generous donors for the balance.
For more information, please contact: Jessica Charette at 705.475.2538 or jessica.charette@canadorecollege.ca; Carrie Richmond at 705.474.7600, ext. 5216 or carrie.richmond@canadorecollege.ca
#Aboriginal #Canadore Foundation #Canadore Students' Council #Collaboration #College Drive #Events #Experiential Learning #First Gen #First Peoples' Centre #General #Health, Human, Wellness #Indigenous Studies #New #Profile #Recruitment #Research #Student Life #Student Success Services #The Village
---
---