All Stories
Two Canadore Graduates Nominated for Film Award
May 12, 2017 | Canadore College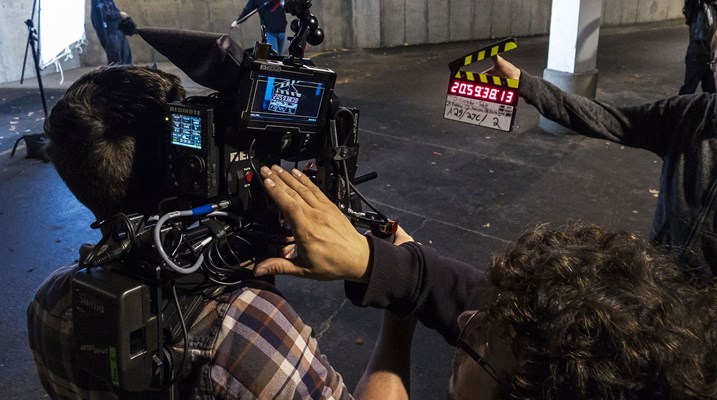 (NORTH BAY, ONT.) – Two of Canadore College's digital cinematography recent graduates have been nominated for the prestigious 2017 Music and Film in Motion (MFM) film awards.
Dale Carrigan (Camani) and Martin Smith (Ordinary Miracle) are nominated for the film awards' best director. Camani is also nominated for best short/mid-length film and won a Broadcast Educators Association of Canada (BEAC) Doc Award in 2016 and Smith's short film, 2:00, won Best Student Short Film in the CTV Best in Shorts competition at the 2014 Cinefest International Film Festival.
"It was easy to see that Dale and Martin had a lot of passion for the industry, as well as the talent to turn that passion into compelling visual storytelling," said Yura Monestime, associate dean of Canadore College's School of Media, Design and Dramatic Arts. "It is amazing to see them achieve this degree of success so early in their careers."
Ordinary Miracle is a nine minute documentary chronicles the life of a Sudbury resident/single mom, Trish Kitching and her severely autistic son Morgan. Camani is a portrait of artist Peter Camani, a creator of avant­-garde structures and thought provoking paintings that captivate his perception of our global unity and social hierarchy.
Carrigan is currently employed as the digital media specialist at Canadore College and Smith is second assistant director of the hit comedy, Letterkenny, and has worked on Superchannel TV series What Should Sal Do and Slasher.
Monestime also proudly states that Canadore College media students and graduates have had a hand in all three of the productions nominated for Best Television or VOD Series, Hard Rock Medical, Letterkenny and St-Nickel, as well as Best Feature Film nominee, The Witch.
The Northern Ontario Music and Film Awards present 13 awards annual in music, film and television/VOD. This year's gala event will take place on May 27 in Sudbury, Ont.
Canadore trains people through applied learning, leadership and innovation. It provides access to over 75 full-time quality programs and has outstanding faculty and student services. The College and its students add nearly $290 million to the regions of Nipissing and Parry Sound. Approximately 1,000 students graduate from Canadore each year, and they join 43,000 alumni working across the globe.
For more information, please contact: Jessica Charette at 705.475.2538 or jessica.charette@canadorecollege.ca; Carrie Richmond at 705.474.7600, ext. 5216 or carrie.richmond@canadorecollege.ca
#Alumni #Experiential Learning #Film #General #Media #Profile
---
---