Personal Support Worker
1

year
–

Ontario College Certificate
Personal Support Worker Alumni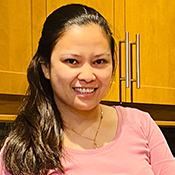 "The one-year Health Care Administration diploma at Canadore College helped me to pursue my nursing profession here in Canada. I knew this program would equip and help me to enhance my personality and professional scope, and to practice legal, ethical and positive health care approaches."
Maya Raguine, Personal Support Worker
ParaMed, North Bay
Health Care Administration Graduate (2020)
---
Canadore College Alumni
The Canadore College Alumni is dedicated to increasing the quality of life, awareness and education for current students, alumni and the communities it serves.
Your relationship does not end when you leave Canadore. In fact, the Canadore College Alumni (CCA) ensures that it just keeps getting better. You will always be informed of what is going on at the College, and be provided with various opportunities to reunite with former classmates and friends. Connect with Canadore Alumni now!